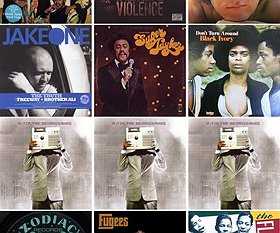 Im Team
HipHop
treten an
Nas
, RZA,
MF Doom
, Jake One,
Malcolm McLaren
, Jedi Mind Tricks, The Fugees und vor allem
Q-Tip
, der gleich mit drei Songs vertreten ist.
Ihnen stehen mit Ruby Andrews, Johnnie Taylor,
Bessie Smith
und The Whatnauts etwas ältere Damen und Herren gegenüber - aber glücklicherweise geht es ja nicht um Basketball, sondern um Musik.
Der Ausgang ist also ungewiss.
Weitere Ausgaben von All Samples Cleared!?
Playlist
1.
Nas / You Can't Stop Us Now (Ft. Eban Thomas Of The Stylistics And The Last Poets / [4])
Untitled / Def Jam (2008)

…

2.
RZA / You Can't Stop Me Now (Ft. Inspectah Deck / [4])
Digi Snacks / Koch (2008)

…

3.
King Geedorah / Anti-Matter (Ft. MF Doom & Mr. Fantastik / [4])
Take Me To Your Leader / Big Dada (2003)

…

4.
The Whatnauts / Message From A Black Man ([1,2,3])
Introducing The Whatnauts / Stang (1970)

…

5.
Jedi Mind Tricks / Trail Of Lies ([6])
A History Of Violence / Babygrande (2008)

…

6.
Bobby Sherman / Land Of Make Believe ([5])
Bobby Sherman / Metromedia (1969)

…

7.
Jake One / The Truth (Ft. Freeway & Brother Ali / [8])
White Van Music / Rhymesayers (2008)

…

8.
Johnnie Taylor / At Night Time ([7])
Super Taylor / Stax (1974)

…

9.
Black Ivory / You And I ([10])
Don't Turn Around / Today (1971)

…

10.
Q-Tip / Gettin Up ([9])
The Renaissance / Universal Motown (2008)

…

11.
Q-Tip / Official
The Renaissance / Universal Motown (2008)

…

12.
Q-Tip / Won't Trade ([13])
The Renaissance / Universal Motown (2008)

…

13.
Ruby Andrews / You Made A Believer (Out Of Me) ([12])
7" Only / Zodiac (1969)

…

14.
The Fugees / Zealots ([15])
The Score / Columbia (1996)

…

15.
The Flamingos / I Only Have Eyes For You ([14])
7" Only / End (1959)

…

16.
The Zombies / She's Not There ([17])
7" Only / Decca (1964)

…

17.
Malcolm Mclaren / About Her ([16,18])
VA - Kill Bill 2 (OST) / Maverick (2004)

…

18.
Bessie Smith / St. Louis Blues ([17])
St. Louis Blues (OST) / No Info (1929)

…