Antikörper
Which Came First: The Hen Or The Egg?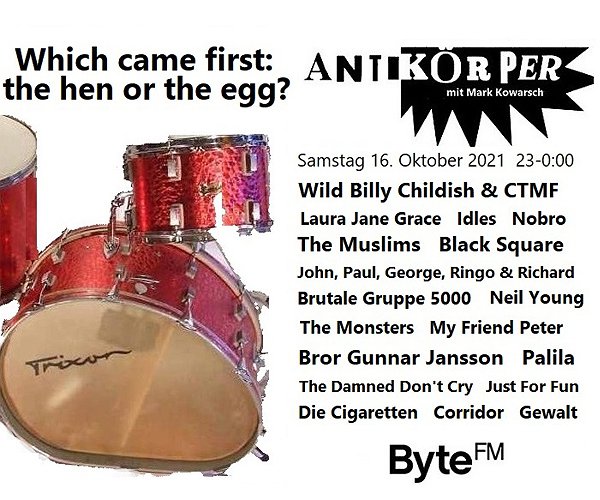 Antikörper-Moderator Mark Kowarsch stellt euch heute Abend neue Musik von Wild
Billy Childish
& CTMF, Laura Jane Grace,
Idles
, Nobro, The Muslims, Black Square feat. Sabrina Lügt, John, Paul, George, Ringo & Richard, Brutale Gruppe 5000,
Neil Young
, The Monsters, My Friend Peter, Bror Gunnar Jansson, Palila,
The Damned
Don't Cry, Just For Fun, Die Cigaretten, Corridor und
Gewalt
vor.
Weitere Ausgaben von Antikörper
Playlist
1.
Just For Fun / Bader
Im Museum Der Eigenen Irrtümer / Tapete Records

…

2.
Bror Gunnar Jansson / They Called Him A Righteous Man
Faceless Evil, Nameless Fear / Playground

…

3.
My Friend Peter / Groovin Guud
Shuffle Waffle, Muffle Duffle And Other Stories Volume 1 EP / Numavi Records

…

4.
Corridor / Et Hop
Et Hop Single / Sub Pop

…

5.
Nobro / Better Each Day (Clean Edit)
Better Each Day Single / Big Scary Monsters

…

6.
The Muslims / Fuck These Fuckin' Fascists
Fuck These Fuckin' Fascists / Epitaph

…

7.
Black Square / Macht Und Herrschaftsverhältnisse Im Wasserglas (feat. Sabrina Lügt)
Blumen Am Abgrund / Keep It A Secret/Plastic Bomb

…

8.
John, Paul, George, Ringo & Richard / Misery Machine
Das Ist Die Zukunft, Aber Nicht Deine / Phantom Records

…

9.
Brutale Gruppe 5000 / Soundtrack Zu Untergang
Rauchender Elefant Auf Zeppelin Bleibt! / Amsa Records

…

10.
Laura Jane Grace / Lolo
At War With The Silverfish EP / Big Scary Monsters

…

11.
Idles / The Beachland Ballroom
Crawler / Partisan Records

…

12.
The Damned Don't Cry / Disconnect Myself
Doing, Making, Saying Things EP / Unter Schafen Records

…

13.
The Monsters / Smell My Tongue
You're Class, I'm Trash / Voodoo Rhythm Records/Sounds Of Subterrania/Slovenly Records

…

14.
Wild Billy Childish & CTMF / Come Into My Life
Where The Wild Purple Iris Grow / Damaged Goods

…

15.
Palila / NY Family Plans
Rock'n'Roll Sadness / Kapitän Platte

…

16.
Die Cigaretten / Dope AF
Immer Is Irgendwas Single B-Seite / Audiolith

…

17.
Gewalt / Es Funktioniert
Paradies / Clouds Hill

…

18.
Neil Young / Sugar Mountain (Live)
Carnegie Hall 1970 / Shakey Pictures/Reprise

…