Bordermusic
Gris Gris Gumbo Ya Ya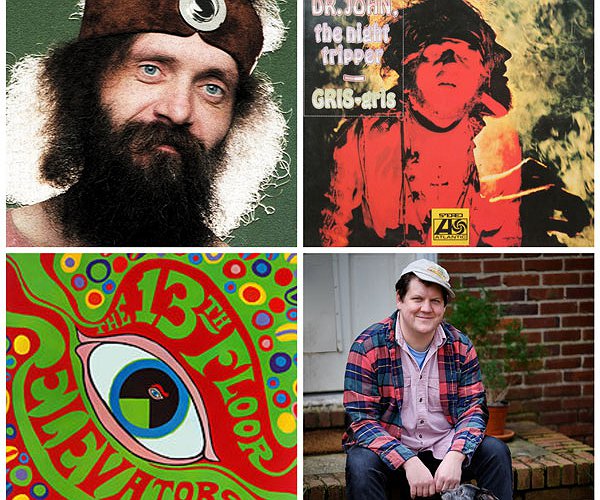 Ausgabe vom 09.06.2019: Gris Gris Gumbo Ya Ya
Hören
Schon wieder sind zwei Größen der Musikgeschichte von uns gegangen, Dr. John, The Gris-Gris-Man, und Roky Erickson, der Sänger der 13th Floor Elevators. Neben all diesen schlechten Nachrichten gibt es heute kurz vor dem Sommerloch vor allem neue Musik in Bordermusic.

Die Mystery Lights stehen extrem unter Strom, Faye Webster hingegen liegt schon morgens auf Valium mit einem Gin And Tonic am Pool, Frankie Lee schaut auch kurz vorbei und John Paul ist wie immer sauer.

Etwas ausführlicher würdigen wir das neue Album "Out Of Sight" von Jake Xerxes Fussell aus Durham in North Carolina. Wie auf all seinen Alben sind die Songs nicht von ihm, er hat sie gefunden, in antiquarischen Liederbüchern, Archiven und auf alten Aufnahmen. Das alte, seltsame Amerika, das ist der musikalische Schatz, aus dem er sich bedient und diese Songs ins Jetzt transportiert.
Weitere Ausgaben von Bordermusic
Playlist
1.
Dr. John, The Night Tripper / Gris-Gris Gumbo Ya Ya
Gris-Gris / ATCO
2.
13th Floor Elevators / You´re Gonna Miss Me
The Psychedelic Sounds Of The 13th Floor Elevators / Decal
3.
The Mystery Lights / Can´t Get Through To My Head
Too Much Tension! / Daptone/Wick
4.
The Mystery Lights / Too Much Tension!
Too Much Tension! / Daptone/Wick
5.
Faye Webster / Room Temperature
Atlanta Millionaires Club / Secretly Canadian
6.
Frankie Lee / Speak Easy
Stillwater / Loose
7.
Jake Xerxes Fussell / Jubilee
Out Of Sight / Paradise Of Bachelors
8.
Rev. H. W. Stuckey / Fish Vendor´s Cries
Library Of Congress / Library Of Congress
9
Jake Xerxes Fussell / The River St. Johns
Out Of Sight / Paradise Of Bachelors
10.
Jake Xerxes Fussell / Winnsboro Cotton Milk Blues
Out Of Sight / Paradise Of Bachelors
11.
Virginia Eskin / Selections From 19 American Folk Songs For Piano: The Three Ravens
Music Of Marion Bauer And Ruth Crawford Seeger / Albany
12.
Jake Xerxes Fussell / Three Ravens
Out Of Sight / Paradise Of Bachelors
13.
House And Land / Precious Jewels
Across The Field / Thrill Jockey
14.
Beverly Glenn-Copeland / Color Of Anyhow
Beverly Glenn-Copeland / GRT
15.
John Paul / Nuts
12" / In A Car
16.
Wladyslaw Komendarek / Trzeci Test
Retrospektywny / Akuphone
17.
Beverly Glenn-Copeland / Ever New
Keyboard Fantasies / Séance Centre