ByteFM Magazin
Mirca Lotz (Network The Networks) im Gespräch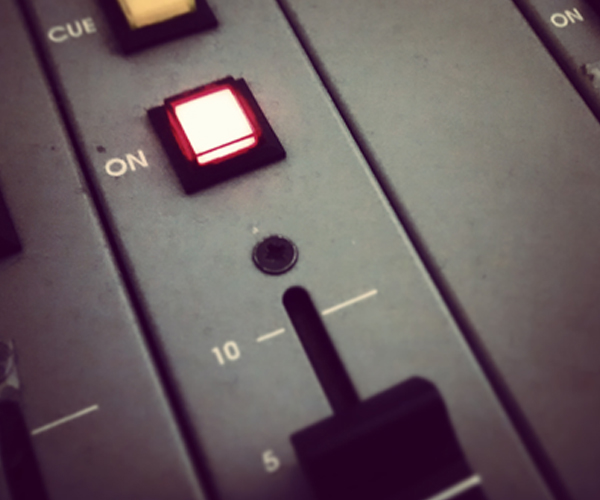 Ausgabe vom 19.04.2021: Mirca Lotz (Network The Networks) im Gespräch
Hören
Netzwerktreffen gibt es viele. Aber wer vernetzt die Netzwerke? Eine Frage, der "Network The Networks" eine Antwort entgegensetzen möchte. Die Veranstaltung möchte den ungefähr 50 deutschlandweit agierenden Frauen*-Musik-Netzwerken, Kollektiven und Akteur*innen eine Plattform für Austausch und Wissenstransfer bieten.

Die Teilnehmenden treffen sich online zu Talks, Workshops, Listening Sessions oder Think-Tanks zu Themen, die zuvor von den Netzwerken vorgeschlagen werden konnten. Unter den Programmpunkten befinden sich Veranstaltungen wie "Songwriters Feedback", "How To Feministisches Label" oder "Pandemic Support Group". "Network The Networks" wird von Music* Women Germany umgesetzt und findet am 21. April 2021 als Satellit der c/o Pop Convention statt.

Die Idee zum Netzwerktreffen stammt von Mirca Lotz. Heute ist sie im ByteFM Magazin bei Timo Grimm zu Gast.
Weitere Ausgaben von ByteFM Magazin
Playlist
1.
Die P / Mailbox
3,14 / Pias

…

2.
Ikoqwe / Pele
The Beginning, The Medium, The End And The Infinite / Crammed Discs

…

3.
Hannah Jadagu / What Is Going On?
What Is Going On? (Single) / Sub Pop

…

4.
Ian Whitcomb / You Turn Me On
You Turn Me On! / ITW Records

…

5.
Wanda Sá / Adriana
Vagamente / Poppydisc

…

6.
Gisbert Zu Knyphausen / Straße
Straße (Rio Reiser Cover) (Single) / Unter Schafen Records

…

7.
Fotos / Meise
Auf Zur Illumination! / PIAS

…

8.
Der Assistent / Einsamkeit
Einsamkeit (Single) / Staatsakt

…

9.
The Art Of Noise / Moments In Love
(Who's Afraid Of) The Art Of Noise / ZTT Records

…

10.
Easy Life / Skeletons
Skeletons (Single) / Island

…

11.
A Certain Ratio / Keep It Together
Keep It Together (Single) / A Certain Ratio

…

12.
Joy Division / Disorder
Unknown Pleasures / Factory Records / London Records

…

13.
The Durutti Column / Sketch For Summer
The Return Of The Durutti Column / Factory Records / London Records

…

14.
Chic / Good Times
Risqué / Atlantic Record Corporation

…

Stunde 2:

…

1.
The Sugarhill Gang / Rapper's Delight (Single Version)
The Sugarhill Gang - 30th Anniversary Edition / Sanctuary Records

…

2.
Retrogott & Nepumuk / Die Sprache Des Geldes
Metamusik / Sichtexot

…

3.
Chic / City Lights
Tongue In Chic / Warner

…

4.
Retrogott & Nepumuk / Die Sprache Des Geldes
Metamusik / Sichtexot

…

6.
Tune-Yards / Bizness
W H O K I I I / 4AD

…

7.
Tune-Yards / Hypnotized
Sketchy. / 4AD

…

8.
Benny Sings / Nobody's Fault (Feat. Tom Misch)
Nobody's Fault (Single) / Stones Throw

…

9.
Andy Stott / Never The Right Time
Never The Right Time / Love119

…

10.
Richard Hawley / Tonight The Streets Ar Ours
Lady's Bridge / Mute Records

…

12.
Norah Jones / Black Hole Sun (Live)
'Til We Meet Again (Live) / Capitol Records

…

13.
Maria Reis / Maria Do Ó
A Flor Da Urtiga / Cafetra Records

…

14.
Sofia Portanet / Free Ghost
Freier Geist / Duchess Box Records

…

15.
Planningtorock / Let's Talk About Gender Baby
All Love's Legal / Human Level

…

Stunde 3:

…

1.
Akne Kid Joe, Alex Pascow / Sarah (Frau, Auch In Ner Band)
Die Große Palmöllüge / Kidnap Music

…

2.
Mary Ocher / A Beginning Of Disobedience
Mary Ocher, Your Government / Faust Studio Sessions And Other Recordings

…

3.
Driftmachine / Memories Of The Lakeside
Spume & Recollection / Umor-Rex

…

4.
Alpha Steppa, Fikir Amlak / Showtime
Showtime (Single) / Steppas Records

…

5.
Solange, Sampha / Don't Touch My Hair
A Seat At The Table / Columbia Records

…

6.
Cosines / Nothing More Than A Feeling
Oscillations / Fika Recordings

…

7.
Dry Cleaning / Scratchcard Lanyard
New Long Leg / 4AD

…

8.
Shatten / Katzen Fuettern
Katzen Fuettern (Single) / Rookie Records

…

9.
Foo Fighters / This Is A Call
Foo Fighters / Roswell Records

…

10.
The Primitives / Crash
Lovely / BMG

…

11.
The Kingsmen / Louie Louie
The Best Of The Kingsmen / Kingsmen Int'l Licensing

…

12.
Good Sad Happy Bad / Honey
Shades / Textile Records

…