ByteFM Magazin
Dave Longstreth (Dirty Projectors) im Gespräch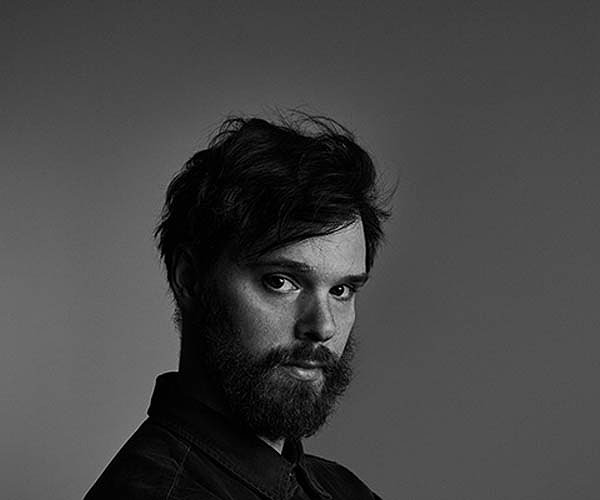 Künstler*innen, die aus der Krise heraus Kunst machen und Perspektiven für die Zukunft entwerfen – dieses Leitmotiv zieht sich durch die aktuelle Ausgabe des Internationalen Sommerfestivals, das seit dem 4. August in Hamburg auf Kampnagel und der Elbphilharmonie stattfindet. Teil des interdisziplinären Line-ups zwischen Musik, Tanz, Theater und Performance sind in diesem Jahr neben
Feist
, Rufus & Martha Wainwright oder Ligna auch Dave Longstreth und stargaze.
Der Kopf der US-Band
Dirty Projectors
und das international besetzte Orchesterkollektiv haben sich zusammengetan, um die Dirty-Projectors EP "
Earth Crisis
" gemeinsam auf die Bühne zu bringen – eine musikalische Auseinandersetzung mit den ökologischen Auswirkungen des Klimawandels, insbesondere der globalen Erwärmung. Mit "Song Of The Earth In Crisis", so der Name des Programms, transportieren die Musiker*innen nicht zuletzt Gustav Mahlers "Lied von der Erde" in die Jetzt-Zeit. "In den 111 Jahren seit der Uraufführung von Gustav Mahlers 'Lied von der Erde' hat sich unser Verhältnis zur Erde dramatisch verändert. Es schien also an der Zeit, diese Idee neu zu formulieren", so Longstreth über das gemeinsame Projekt.
Vor dem Auftritt am 12. August in der Hamburger Elbphilharmonie ist Dave Longstreth im Gespräch bei Friederike Herr.
(Foto Dave Longstreth: Jason Frank Rothenberg)
Weitere Ausgaben von ByteFM Magazin
Playlist
1.
Girl Ray / Give Me Your Love (Radio Edit)
Give Me Your Love (Single) / Moshi Moshi Records

…

2.
JaKönigJa / Die Stadt Im Sommer
Ja König Ja / Buback

…

3.
Sam Evian / Knock Knock
Knock Knock / Fat Possum Records

…

4.
Aaron Frazer / Bad News
Introducing ... / Dead Oceans

…

5.
Porridge Radio / New Slang
New Slang / Sub Pop

…

6.
Edwin Rosen / Verschwende Deine Zeit
Verschwende Deine Zeit (Single) / Irrsinn Tonträger

…

7.
Public Service Broadcasting / People, Let's Dance
People, Let's Dance (Single) / PIAS

…

8.
Les Trucs / Das Vergessene Organ
Jardin du Boeuf / Zeitstrafe

…

9.
Emma-Jean Thackray / Say Something
Say Something (Single) / Movementt

…

10.
Solemn Brigham / Keep The Hope
Keep The Hope (Single) / Mello Music Group

…

11.
Monjola & Aby Coulibaly / Where U At
Where U At (Single) / Chamomile Records

…

12.
Midnight Sister / Satellite
Satellite (Single) / Jagjaguwar

…

13.
Eels / Novocaine For The Soul
Beautiful Freak / 5KG Music

…

14.
Eels / Beautiful Freak
Beautiful Freak / 5KG Music

…

15.
Girls Of The Internet / Still (Lalou Remix)
Still / Drab Queen

…

16.
Dirty Projectors / There I Said It
5EPs / Domino

…

17.
Dirty Projectors / Earth Crisis
- / -

…

18.
Dirty Projectors / Bird's Eye
5EPs / Domino

…

19.
Rainbirds / Sea Of Time
Call Me Easy Say I'm Strong Love Me My Way It Ain't Wrong / Mercury

…

20.
Rejjie Snow / Disco Pantz (feat. Tinashe & Grouptherapy)
Disco Pantz (Single) / 300 Entertainment

…

21.
Good Sad Happy Bad / Honey
Shades / Textile Records

…

22.
INXS / Need You Tonight
Kick / BMG

…

23.
INXS / Red Red Sun
Listen Like Thieves / Mercury

…

24.
Sufjan Stevens / Video Game
The Ascension / Asthmatic Kitty

…

25.
BXKS / Must Feel
Full Time Daydreamer / Marathon Artists

…

26.
Haiyti, Sly Alone / No Front
No Front / Hayati Records

…

27.
H.E.R. / Change
Change (Single) / Sony/RCA

…

28.
Homesick Hank / Ode To The Moon
Ghosts / Nordic Music Society

…

29.
Leoniden / L.O.V.E.
L.O.V.E. (Single) / Irrsinn Tonträger

…

30.
Ilgen-Nur / Silver Future
Power Nap / Power Nap Records

…

31.
Greentea Peng / Dingaling
Dingaling (Single) / Universal

…

32.
The Tornados / Telstar
Telstar / Sanctuary Records

…

33.
The Tornados / Ridin' The Wind
Telstar And More / Caribe

…

34.
Muse / Supermassive Black Hole
Black Holes And Revelations / A&E Records

…

35.
Anika / Never Coming Back
Change / Invada Records

…

36.
Zwanie Jonson / The Hook
We Like It / Fun In The Church

…

37.
Lady Linn / That's Alright
Here We Go Again / V2 Records

…

38.
Benny Sings / Sunny Afternoon
Music / Stones Throw Records

…

39.
Cypress Hill / How I could just kill a man
Cypress Hill / BMG

…

40.
Cypress Hill / The Funky Cypress Hill Shit
Cypress Hill / BMG

…

41.
Sugar Candy Mountain / Gussie
Impression / Org Music

…

42.
Daft Punk / Something About Us (Slowed)
Discovery / Parlophone

…