ByteFM Magazin
Laura Lee & The Jettes zu Gast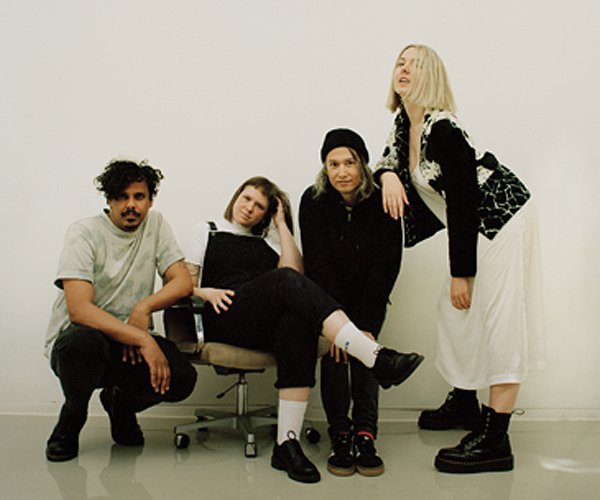 Vielen ist Laura Lee durch die Band
Gurr
bekannt, die sie im Jahr 2012 mit Andreya Casablanca gründete. Die Berlinerinnen haben bereits zwei Studioalben veröffentlicht und unterstützten Musiker wie Kakkmaddafakka oder Kraftklub als Vorband. Unter dem Namen Jettes veröffentlichte Laura Lee zuletzt zusammen mit Melody Connor einige Singles und eine gemeinsame EP. Aus Jettes wurde mittlerweile eine dreiköpfigen Begleitband.
"Wasteland", das Debütalbum von Laura Lee & The Jettes, erscheint am 26. November 2021 auf dem Label Duchess Box Records. Mit der Single "Caterpillar" veröffentlichte die Gruppe im September den zweiten Vorboten der Platte. Selbst bezeichnen sie ihre Musik als Grunge für Millennials. Produziert wurde das Album von Max Rieger.
Vor ihrem Auftritt beim Reeperbahn Festival sind Laura Lee & The Jettes bei Timo Grimm im ByteFM Magazin zu Gast.
[Foto: Suzanne Caroline de Carrasco]
Weitere Ausgaben von ByteFM Magazin
Playlist
1.
3 South & Banana / 55 Million Light Years Away
3 South & Banana / Some Other Planet Records

…

2.
Amyl And The Sniffers / Guided By Angels
Guided By Angels (Single) / Rough Trade

…

3.
Sorry 3000 / Nasenspray
Warum Overthinking Dich Zerstört / Audiolith

…

4.
Black Marble / Daily Driver
Bigger Than Life / Sacred Bones

…

5.
DIIV / Blankenship
Deceiver / Captured Tracks

…

6.
Laura Lee & The Jettes / Caterpillar
Caterpillar (Single) / Duchess Box Records

…

7.
Laura Lee & The Jettes / Absolut (live at ByteFM)
Absolut (live at ByteFM) / Duchess Box Records

…

8.
L'éclair / Still Steeve
Sauropoda / Captured Tracks

…

9.
Beach House / PPP
Depression Cherry / Bella Union

…

10.
Thala / Serenade
Adolescence / Duchess Box Records

…

11.
Jane Weaver / The Revolution Of Super Visions (Radio Edit)
The Revolution Of Super Visions (Single) / Fire Records

…

12.
Bikini Kill / Rebell Girl
Pussy Whipped / Bikini Kill Records

…

13.
Nirvana / Lithium
Nevermind - 20th Anniversary / Geffen Records

…

Stunde 2:
1.
Killing Joke / Eighties
Laugh? I Nearly Bought One! / Virgin Records

…

2.
Georgia Anne Muldrow / Overload
Overload / Brainfeeder

…

3.
Matthew E. White / Electric
Electric (Single) / Domino

…

4.
Red Hot Chili Peppers / Give It Away
Blood Sugar Sex Magik / Warner Records

…

5.
Red Hot Chili Peppers / Funky Monks
Blood Sugar Sex Magik / Warner Records

…

6.
Circuit Des Yeux / Dogma
Dogma (Single) / Matador

…

7.
Shkoon / Forgotten Stories
Forgotten Stories (Single) / Shkoon Music

…

8.
Fazer / Grenadier
Grenadier (Single) / Shkoon Music

…

9.
Nubiyan Twist / Flow (feat. Cherise)
Flow (Single) / Strut Records

…

10.
A Tribe Called Quest / Scenario
The Low End Theory / Jive / Zomba

…

11.
A Tribe Called Quest / Jazz (We've Got)
The Low End Theory / Zomba

…

12.
Web Web & Max Herre / Akinuba / The Heart
Web Max / Compost

…

13.
International Music / Raus Ausm Zoo
Ententraum / Staatsakt

…

Stunde 3:
1.
Otto Franklyn, Trace / Arktis
Arktis (Single) / Fridays For Future Germany

…

2.
The Hans / Deutsche Wohnen Enteignen
Deutsche Wohnen Enteignen (Single) / The Hans

…

3.
Goat / Fill My Mouth
Fill My Mouth (Single) / Rocket Recordings

…

4.
Linda McCartney / Seaside
Wide Prairie / MPL Communications

…

5.
Linda McCartney / I Got Up
Wide Prairie / MPL Communications

…

6.
Carwyn Ellis & Rio 18 / Ar Ôl Y Glaw
Mas / Légère Recordings

…

7.
Babe Rainbow / Love Forever
The Babe Rainbow EP / Eureka Music

…

8.
Love / Everybody's Gotta Live
Reel To Real / High Moon Records

…

9.
Love / Always See Your Face
Four Sails / Elektra Entertainment

…

10.
Sofia Portanet / Free Ghost
Freier Geist / Duchess Box Records

…

11.
The Notwist / Exit Strategy To Myself
Vertigo Days / Morr Music

…

12.
Tocotronic / Jugend Ohne Gott Gegen Fachismus
Jugend Ohne Gott Gegen Fachismus (Single) / Tocotronic Neu Gbr

…

13.
Claire Laffut / Vérité
Mojo EP / Universal

…

14.
Courtney Barnett / I'll Be Your Mirror
I'll Be Your Mirror / UMG

…

15.
Rufus Wainwright / Damsel In Distress
Unfollow The Rules / BMG

…