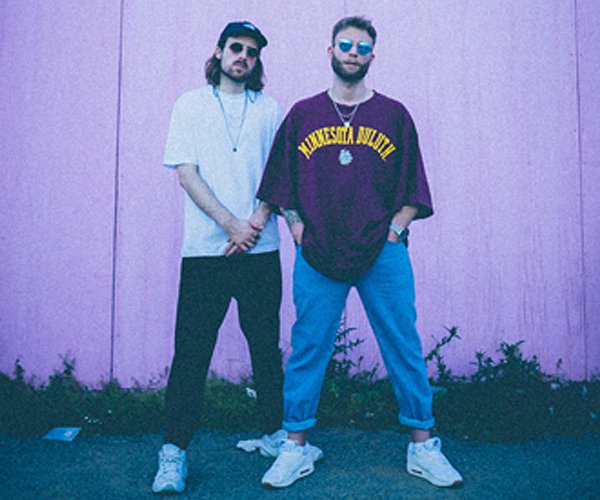 Produzenten sind längst nicht mehr nur stille Akteure im Hintergrund. Wenn wir an Producer wie Young Mesh, DJ Khaled oder Kitschkrieg denken, haben wir auch gleich die dazugehörigen Tags im Ohr. Das Produzenten-Duo The Kii bestehend aus Jan Lilienthal und Michael Nowatzky mischen die Szene seit kurzem ordentlich auf. Beide stammen aus musikalischen Familien und kamen schon früh in den Kontakt mit Instrumenten. Nach einem gemeinsamen Auslandssemester in Chicago im Jahr 2018 beschlossen die Mannheimer zusammen Beats und Songs zu machen. Letztes Jahr erschienen die ersten Singles "Walk Alone" und "Virgo".
Mit "Piupiupiu" veröffentlichten The Kii am 24. September ihre Debüt-EP. Darauf sind Features mit Rappern wie Kelvyn Colt,
Mick Jenkins
oder Valee zu finden. Ihr Sound erinnert an Künstler wie Sounwave oder Rick Rubin.
Anlässlich der Veröffentlichung von "Piupiupiu" sind The Kii heute im Gespräch bei Nils Lagoda.
[Foto: Jannis Cox]
Weitere Ausgaben von ByteFM Magazin
Playlist
1.
Berhana / Health Food
Year Of The Witch / Captured Tracks

…

2.
Kelvyn Colt / I Got This (feat. Merty Shango)
LH914 / TBHG

…

3.
Weezer / Island In The Sun
Weezer (Green Album) / Geffen Records

…

4.
Juliana Hatfield / Gorgon
Gorgon (Single) / American Laundromat

…

5.
Kat Frankie / Bad Behaviour
Bad Behaviour / Goenland Records

…

6.
Derya Yildirim & Grup Simsek / Haydar Haydar
Dost 1 / Bongo Joe

…

7.
Madison McFerrin / Try
You + I / Madison McFerrin

…

8.
Goldroger / Rave
Rave (Single) / Irrsinn Tonträger

…

9.
Matthew E. White / Electric
Electric (Single) / Domino

…

10.
Audiobooks / First Move
Astro Tough / PIAS

…

11.
Glass Animals / Pork Soda
How To Be A Human Being / Caroline

…

12.
Wayne Snow / Nina
Figurine / Roche Musique

…

13.
Lasse Matthiessen / Dancing With Air
Dancing With Air (Single) / Zpektakel

…

14.
Phoebe Bridgers / That Funny Feeling
That Funny Feeling (Single) / Dead Oceans

…

Stunde 2:
1.
Yard Act / Dark Days
Dark Days / Zen F.C.

…

2.
George Harrison / Stuck Inside A Cloud
Brainwashed / Umlaut Corp

…

3.
A Perfect Circle / Imagine
eMOTIVe / Virgin

…

4.
Doja Cat / Imagine
Planet Her / Kemosabe Records

…

5.
Ray Charles / Imagine
True Genius / Tangerine Records

…

6.
Scarface / Born Killer
Mr. Scarface Is Back / Virgin Records

…

7.
Ben Lee / Cigarettes Will Kill You
Breathing Tornados / Grand Royal

…

8.
Die Wilde Jagd / Austerlitz
Fly Rocket Fly (Original Soundtrack) / Bureau B

…

9.
Talking Heads / Psycho Killer
Talking Heads '77 / Sire Records

…

10.
The Heads / The King Is Gone (Feat. Michael Hutchence)
No Talking Just Head / Geffen Records

…

11.
Whitney / Strange Overtones
Candid / Secretly Canadian

…

12.
5K HD / 10/15
High Performer / Ink

…

13.
Squid / G.S.K.
Bright Green Field / Warp Records

…

14.
Bananagun / Out Of Reach
Out Of Reach (Single) / Full Time Hobby

…

15.
Serious Klein / Lil Capo
Lil Capo (Single) / Serious Klein

…

Stunde 3:
1.
The Kii / I Beg To Differ (feat. Serious Klein & Mick Jenkins)
Piupiupiu / The Kii Records

…

2.
The Kii / Xmen (feat. Kyle Bent & Elijah Malik)Piupiupiu
Piupiupiu / The Kii Records

…

3.
The Kii / Picture Me (feat. Valee & Kelvyn Colt)
Piupiupiu / The Kii Records

…

4.
Danger Dan / Das Ist Alles Von Der Kunstfreiheit Gedeckt
Das Ist Alles Von Der Kunstfreiheit Gedeckt (Single) / Antilopen Geldwäsche

…

5.
Mine / Hinüber
Hinuber / Caroline

…

6.
Bodeans / Fadeaway
Love & Hope & Sex & Dreams / Rhino Entertainment

…

7.
Kurt Neumann / Words
Shy Dog / Shy Dog Songs

…

8.
Red Hot Chili Peppers / Freaky Styley
Freaky Styley / Capitol Records

…

9.
Bonaparte / Last Two Lovers
Last Two Lovers / Untitled #2 / Bonaparte

…

10.
Lakeyah / Reason (Feat. DJ Drama)
MyTime (Gangsta Grillz: Special Edition) / Quality Control Music

…

11.
Evan Wright / Just A Sign
Sound From Out The Window / Solitaire Recordings

…

12.
Claire Laffut / Vérité
Mojo EP / Universal

…