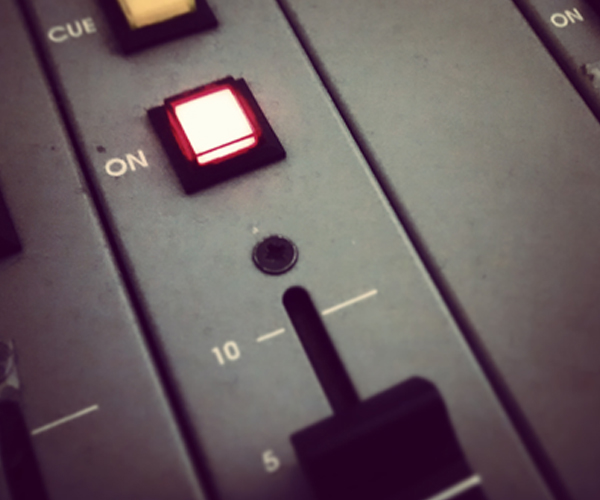 Im Magazin erinnern wir heute an Tiny Tim, der US-amerikanische Musiker ist vor 25 Jahren gestorben. Bekannt wurde Herbert Khaury aus New York als Tiny Tim in den 1960er-Jahren in der Kunst- und Musikszene des Greenwich Village in Manhattan. Tiny Tims Markenzeichen waren seine Ukulele und sein Falsett-Gesang. Seinen bekanntesten und erfolgreichsten Song hatte er mit seiner Version des Broadway-Songs "Tiptoe Through The Tulips With Me".
Neue Musik hört Ihr heute von unserem Album der Woche "Unity" von
The KVB
und neue Singles gibt es von
Trentemøller
und
Wet Leg
zu hören.
Weitere Ausgaben von ByteFM Magazin
Playlist
1.
!!! / AM/FM
Strange Weather, Isn't It? / Warp

…

2.
Emma-Jean Thackray / Say Something
Say Something (Single) / Movementt

…

3.
Wet Leg / Too Late Now
Too Late Now / Oh No / Domino

…

4.
Moses Boyd / Shades Of You (feat. Poppy Ajudha)
Shades Of You (Single) / Exodus Records

…

5.
Trentemøller / Dead Or Alive
Dead Or Alive / In My Room

…

6.
Onipa / Chicken No Dey Fly
Tapes Of Utopia (Mixtape) / Boomerang Records

…

7.
Lewsberg / Getting Closer
In Your Hands / Lewsberg Records

…

8.
Beach Fossils / Down The Line
Somersault / Bayonet

…

9.
Peyton / Let It Flow (feat. Brice Blanco)
PSA / Stones Throw Records

…

10.
The Bug / Treetop (feat. Jason Williamson)
Treetop / Ninja Tune

…

11.
Cass McCombs / County Line
Wit's End / Domino

…

12.
Anika / Never Coming Back
Change / Invada Records

…

13.
Tiny Tim / Tip Toe Through The Tulips With Me
God Bless Tiny Tim / Warner

…

14.
Tiny Tim / Then I'd Be Satisfied With My Life
God Bless Tiny Tim / Warner

…

15.
Active Child / Hanging On
You Are All I See / Vagrant Records

…

16.
Combat Beach / Star Wars Episode VI
Star Wars Episode VI / Seayou Records

…

17.
Clear History / Solar Death Ray
Bad Advice Good People / Upset The Rhythm

…

18.
Curtis Harding / Can't Hide It
Can't Hide It (Single) / Anti-

…

19.
Childish Gambino / Redbone
Awaken, My Love! / Glassnote

…

20.
Childish Gambino / Have Some Love
Awaken, My Love! / Glassnote

…

21.
Derya Yildirim & Grup Simsek / Kar Yagar
Kar Yagar (Single) / Les Disques Bongo Joe / Catapulte Records

…

22.
A Tribe Called Quest / Can I Kick It?
People's Instinctive Travels And Paths Of Rhythm / Jive / Zomba

…

23.
Digitalluc, Lunchbag / Scenario
Scenario / Digitalluc & Lunchbag

…

24.
Made In M / Flightmode On
Beats On Boat: Made In M / Ear-Sight

…

25.
Die P / Neuer Tag
3,14 / Pias

…

26.
Parquet Courts / Walking At A Downtown Pace
Sympathy For Life / Rough Trade

…

27.
The KVB / Omni
Unity / Invada

…

28.
Little Dragon / Ritual Union
Ritual Union / Peacefrog

…

29.
Die Regierung & Sandra / Der Pfad
Der Pfad (Single) / Staatsakt

…

30.
Your Old Droog / Yuri
Space Bar / Mongoloid Banks

…

31.
Ezra Collective / What Am I To Do? (feat. Loyle Carner)
You Can't Steal My Joy / Enter The Jungle

…

32.
Etta James / Nobody Loves You Like Me
I Smell A Rat: Early Black Rock'n Roll (1949 - 1959) Vol. 2 / Trikont

…

33.
Peter Doherty / Flags From The Old Regime
Hamburg Demonstrations / Clouds Hill

…

34.
Peter Doherty / Down For The Outing
Hamburg Demonstrations / Clouds Hill

…

35.
Cat Power / Cherokee
Sun / Matador

…

36.
Fleetwood Mac / Dreams
Rumours / Warner

…

37.
The Soul Children / Give 'Em Love
The Soul Children / Concord

…

38.
J. Blackfoot / Taxi
Taxi / Looobop

…

39.
Fat Freddy's Drop / Kamo Kamo
Kamo Kamo (Single) / The Drop

…

40.
Saint Etienne / A Kiss Like This
Her Winter Coat EP / Pias

…

41.
DIIV / Doused
Oshin / Captured Tracks

…

42.
Thala / Something In The Water (feat. Bearcubs)
Something In The Water (Single) / Duchess Box Records

…