ByteFM Magazin
Michael Rother & Vittoria Maccabruni im Gespräch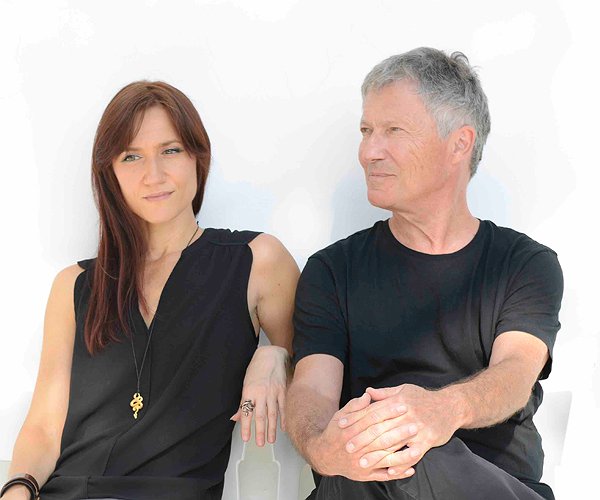 Kraftwerk
, Neu!, Harmonia. Was diese die Musikgeschichte prägenden Bands gemeinsam hatten?
Michael Rother
! Seit den 70ern zählt der gebürtige Hamburger mit seinem markanten Gitarrenspiel zur deutschen Krautrockprominenz. Der große kommerzielle Durchbruch gelang ihm jedoch erst mit seinem Soloalbum "Flammende Herzen" aus dem Jahr 1977. Seit dem veröffentlicht der Musiker regelmäßig unter eigenem Namen. Für die neueste Veröffentlichung, "As Long As The Light", hat sich Rother allerdings Unterstützung geholt – in Person von Vittoria Maccabruni. Beide lernten sich bereits 2005 kennen, es ging dann jedoch noch einige Zeit ins Land, bis der Gitarrist und die italienische Electronica-Künstlerin auch beruflich zueinander fanden.
"As Long As The Light", das gemeinsame Album der beiden Künstler*innen, erscheint am 21. Januar 2022. Vorab sind die beiden im Gespräch bei Marius Magaard im ByteFM Magazin.
[Foto: Marco Lanza]
Weitere Ausgaben von ByteFM Magazin
Playlist
1.
Chris Cohen / Green Eyes
Chris Cohen / Captured Tracks

…

2.
Slowthai & Mura Masa / Doorman
Doorman (Single) / Method Records

…

3.
Let's Eat Grandma / Happy New Year
Two Ribbons / PIAS

…

4.
Kraków Loves Adana / Taint My Mind
Follow The Voice / Kraków Loves Adana

…

5.
Buttering Trio / Desert Dream Romance
Desert Dream Romance (Single) / Raw Tapes Records

…

6.
Laura Lee & The Jettes / Wasteland
Wasteland / Duchess Box

…

7.
Hamburg Spinners / Der Magische Kraken
Der Magische Kraken / Carsten Meyer

…

8.
Tocotronic / Ich Habe Geträumt, Ich Wäre Pizza Essen Mit Mark E. Smith
Wir Kommen Um Uns Zu Beschweren / L'Age D'Or

…

9.
The Fall / Cruisers Creek
This Nation's Saving Grace / Beggars Banquet

…

10.
Aksak Maboul / Un Caïd
Figures / Crammed Discs

…

11.
Henry Cow / War
Unrest / Virgin

…

12.
Pere Ubu / Waiting For Mary
Cloudland / Fontana

…

13.
The Residents / Love Leaks Out
Commercial Record / Ralph Records

…

14.
Sault / Wildfires
Untitled (Black Is) / Forever Living Originals

…

15.
Michael Rother, Vittoria Maccabruni / Edgy Smiles
As Long As The Light / Grönland Records

…

Stunde 2:
1.
Michael Rother, Vittoria Maccabruni / Exp 1
As Long As The Light / Grönland Records

…

2.
Michael Rother, Vittoria Maccabruni / You Look At Me
As Long As The Light / Grönland Records

…

3.
D'Angelo & The Vanguard / Betray My Heart
Black Messiah / RCA

…

4.
Fenster / True Love
The Pink Caves / Morr Music

…

5.
Talk Talk / Such A Shame
It's My Life / EMI

…

6.
Erykah Badu / Gone Baby, Don't Be Long
New Amerykah Part Two: Return Of The Ankh / Motown

…

7.
Fazer / Dezember
Plex / City Slang

…

8.
This Mortal Coil / Song To The Siren
It'll End In Tears / 4AD

…

9.
Cocteau Twins / Wax And Wane
Garlands / 4AD

…

10.
Cocteau Twins / Heaven Or Las Vegas
Heaven Or Las Vegas / 4AD

…

Stunde 3:
1.
Violet Indiana / Air Kissing
Roulette / Instinct Records

…

2.
The Weeknd / The Knowing
House Of Balloons

…

3.
Shopping / Initiative
All Or Nothing / Fat Cat

…

4.
Sleaford Mods / Mork N Mindy
Spare Ribs / Rough Trade

…

5.
H31R, Maassai, Jwords / Precious Silence
Ve•Loc•I•Ty / Purple Tape Pedigree

…

6.
The Slits / I Heard It Through The Grapevine
Cut / Island

…

7.
Ela Minus / Dominique
Acts Of Rebellion / Domino

…

8.
Halsey / People Disappear Here
If I Can't Have Love, I Want Power / Capitol

…

9.
The Wave Pictures / Too Many Questions
If You Leave It Alone / Moshi Moshi

…

10.
Nina Simone / To Be Young, Gifted And Black
Anthology (Disc 2) / RCA

…

11.
A Tribe Called Quest / Buggin' Out
The Low End Theory / Jive

…

12.
Caribou / Never Come Back
Never Come Back (Single) / Merge

…

13.
Widowspeak / Everything Is Simple
The Jacket / Captured Tracks

…

14.
Guided By Voices / Game Of Pricks
Tigerbomb / Matador

…

15.
Blue Öyster Cult / (Don't Fear) The Reaper
Cult Classic / Frontiers Records

…