ByteFM Magazin
Federico Albanese im Gespräch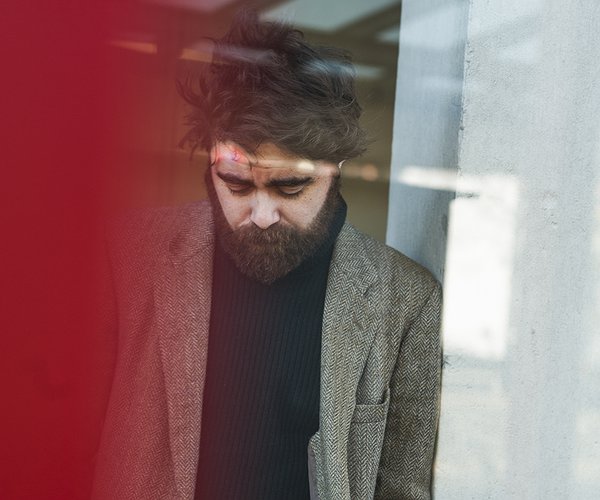 Die musikalische Bandbreite des italienischen Musikers, Komponisten und Pianisten
Federico Albanese
ist enorm: Neben der bereits im frühkindlichen Alter entdeckten Leidenschaft zum Klavier, zählen auch Klarinette sowie Bass zum Spektrum des Multiinstrumentalisten. All diese Facetten vereint er nun auf seinem neuen Album "Before And Now Seems Infinite", dessen Piano-Fokus aber trotz allem nicht von der Hand zu weisen ist.
Der Titel des Longplayers lässt bereits erahnen, dass auch inhaltlich einiges auf die Zuhörer*innen zukommt. Er beschäftigt sich mit dem feinen Grat zwischen Realität und Imagination und tut dies in kurzweiligem Avantgarde-Pop mit Jazz-Anklängen und elektronischen sowie neoklassischen Elementen. Und auch wenn "Before And Now Seems Infinite" das erste Album seit 2019 ist, war in den vergangenen Monaten einiges von dem Wahlberliner zu hören. Drei EPs hat Federico Albanese in den vergangenen neun Monaten veröffentlicht, eine davon gemeinsam mit der irisch-norwegischen Singer-Songwriterin Tara Nome Doyle, die ihn auch auf seiner anstehenden Tour begleitet:
Federico Albanese auf Tour, präsentiert von ByteFM:
04.04.22 Hamburg – Elbphilharmonie
05.04.22 Berlin – Passionskirche
06.04.22 Bonn – Bundeskunsthalle
Heute ist Federico Albanese im Gespräch bei Friederike Herr.
[Foto: Linda Rosa Saal]
Weitere Ausgaben von ByteFM Magazin
Playlist
1.
Drugdealer / Fools
Raw Honey / Mexican Summer

…

2.
Boy Harsher / Give Me A Reason
The Runner (Original Soundtrack) / Rough Trade

…

3.
Wet Leg / Angelica
Angelica / Domino

…

4.
José González / Head On (Radio Edit)
Head On (Single) / City Slang

…

5.
Kit Sebastian / Affet Beni
Melodi / Mr Bongo

…

6.
Nilüfer Yanya / The Dealer
The Dealer / Pias

…

7.
Curtis Harding / Can't Hide It
Can't Hide It (Single) / Anti-

…

8.
Caribou / You And I
Suddenly / City Slang

…

9.
Gurr / She Says
She Says EP / Gurr Records

…

10.
Dumbo Tracks / Everybody Knows (feat. Markus Acher)
Everybody Knows (Single) / Italic

…

11.
Wesley Joseph / Cold Summer
Cold Summer (Single) / Secretly Canadian / Eeviltwinn

…

12.
Kraków Loves Adana / Taint My Mind
Follow The Voice / Kraków Loves Adana

…

13.
Candelilla / Transformer
Camping / Indigo

…

14.
Ada / Faith
Meine Zarten Pfoten / Pampa Records

…

15.
Ducks On Drugs / Süße Musik
Stabil Labil / Audiolith

…

16.
Moses Boyd / 2 Far Gone (Vocal Mix)
2 Far Gone (Vocal Mix) (Single) / Exodus Records

…

17.
Joy Division / Transmission
The Best Of Joy Division / Joy Division

…

18.
The Selecter / On My Radio
The Very Best Of The Selecter / Guava Jelly

…

19.
Die Regierung & Sandra / Der Pfad
Der Pfad (Single) / Staatsakt

…

20.
Blood, Sweat & Tears / Down In The Flood
New Blood / Sony

…

21.
Mitski / Stay Soft
Laurel Hell / Dead Oceans

…

22.
H.E.R. / Bloody Waters
Back Of My Mind / RCA / Sony

…

23.
Fo Sho / Boom Boom Boom
Boom Boom Boom / Best Music

…

24.
Lonnie Liston Smith / A Chance For Peace
A Chance For Peace / Ace Records

…

25.
Laura Lee & The Jettes / Wasteland
Wasteland / Duchess Box

…

26.
Makaya McCraven / Sunset
Bvlack Rhythm Happening / Blue Note

…

27.
P.E. / Blue Nude (Reclined)
Blue Nude (Reclined) (Single) / Wharf Cat Records

…

28.
Federico Albanese / Was There A Time
Before And Now Seems Infinite / Federico Albanese

…

29.
Federico Albanese / Feel Again (feat. Ghostpoet)
Before And Now Seems Infinite / Federico Albanese

…

30.
Federico Albanese / Summerside (feat. Marika Hackmann)
Before And Now Seems Infinite / Federico Albanese

…

31.
Federico Albanese, Tara Nome Doyle / The Moments We Keep
The Moments We Keep / Universal

…

32.
Bodega / Statue Auf Dem Stehtisch
Statuette On The Console (Single) / What's Your Rupture?

…

33.
Harry Belafonte / Matilda
Belafonte / Sony

…

34.
Harry Belafonte / Banana Boat (Day-O)
Calypso / Sony

…

35.
Parquet Courts / Sympathy For Life
Sympathy For Life / Rough Trade

…

36.
Sasami / Call Me Home
Squeeze / Domino

…

37.
Joe Crow / Compulsion
Compulsion / Dark Entries Records

…

38.
Big Thief / Time Escaping
Dragon New Warm Mountain I Believe In You / 4AD

…