ByteFM Magazin
Noga Erez & Melissa Kolukisagil (İÇ İÇE Festival) zu Gast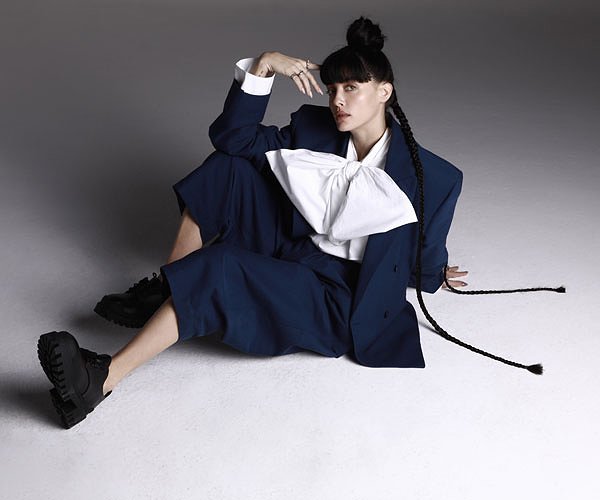 Noga Erez
ist eine israelische Sängerin, Rapperin und Musikproduzentin. Sie wurde 1989 in Tel Aviv geboren und ist in Caesarea aufgewachsen. Bereits als Teenager war Noga Erez Mitglied in verschiedenen Bands und studierte an der Jerusalem Academy Of Music And Dance. Ihr erstes Album "Off The Radar" war ein internationaler Erfolg und fand mit offensiv-politischen Texten bei Musikritiker*innen hohen Anklang.
Noga Erez ist am 16. August 2022 live ive in Hamburg im Mojo Club zu sehen. Vor ihrem Auftritt besucht uns die Musikerin im ByteFM Magazin.
Noga Erez auf Tour:
03.08.22 Leipzig – UT Connewitz
04.08.22 Erlangen – E-Werk
05.08.22 Wiesbaden – Schlachthof
06.08.22 Diepholz – Appletree Garden Festival
15.08.22 Berlin – Heimathafen
16.08.22 Hamburg – Mojo Club
Foto: Tal Abudi
Das İç İçe Festival bringt den Sound der postmigrantischen Gesellschaft am 2. September auf die Bühne des Hamburger Knusts. Es ist das einzige Festival, das sich dem Thema "neue anatolische Musik" auf eine diverse Weise nähert. Gegründet in Berlin und dort schon zweimal veranstaltet, sind die zeitgenössischen Klänge Anatoliens nun zum ersten Mal auch in Hamburg live zu erleben. Diese kommen unter anderem von Nalan, Hülya und Qadir Bijoux x
Farhot
.
Heute spricht Melissa Kolukisagil, Initiatorin des Festivals, im ByteFM Magazin mit Friederike Herr über das İç İçe.
Weitere Ausgaben von ByteFM Magazin
Playlist
1.
Ilgen-Nur / Easy Way Out
Easy Way Out / Power Nap Records

…

2.
Console / A Homeless Ghost
Herself / Disko B

…

3.
Noga Erez / End Of The Road (Against The Machine)
Kids (Against The Machine) / City Slang

…

4.
Noga Erez / Knockout (Against The Machine)
Kids (Against The Machine) / City Slang

…

5.
Noga Erez / Industry Baby
Industry Baby / Noga Erez

…

6.
Noga Erez / Nails
Nails (Single) / City Slang

…

7.
Depeche Mode / Leave In Silence
A Broken Frame / Venusnote / Sony

…

8.
Tops / Perfected Steps
Perfected Steps (Single) / Tops Musique

…

9.
First Aid Kit / Out Of My Head
Out Of My Head / Sony

…

10.
Denai Moore / Cascades
Cascades (Single) / Because Music

…

11.
L'Imperatrice / Voodoo
Tako Tsubo / Microqlima

…

12.
Fehlfarben / 14 Tage (12" Version)
Glut Und Asche / Vertigo/Capitol

…

13.
Quadir Bijoux / Tantra Boost
Mewe / Kabul Fire Records

…

14.
Nalan, Walter P99 Arkestra / Hypnotized
Hypnotized / Public Possession

…

15.
Adir Jan / Love - Asq u Evin
Leyla / Trikont

…

16.
Evîn / Blessed
Evîn EP / Evîn

…

17.
Say She She / Blow My Mind
Blow My Mind (Single) / Colemine Records

…

18.
Ekkstacy / I Walk This Earth All By Myself
I Walk This Earth All By Myself (Single) / Ekkstacy

…

19.
Santigold / Shake
Shake (Single) / Little Jerk Records

…

20.
James BKS / Kwele (feat. Allan Kingdom & Manu Dibango)
Wolves Of Africa / Grown Kid

…

21.
Florence & The Machine / You Got The Love (The XX Remix)
Remixes EP / Underground Collective

…

22.
Jochen Distelmeyer / Zurück Zu Mir
Gefühlte Wahrheiten / Four Music Productions

…

23.
Frittenbude / Wings
Wings (Single) / Audiolith

…

24.
U.S. Girls / So Typically Now
So Typically Now (Single) / 4AD

…

25.
Sleater-Kinney / Reach Out
The Center Won't Hold / Caroline

…

26.
Niniola x Lady Du / I Did It (Bum Bum)
I Did It (Single) / Drumroll Records

…

27.
Dreya Mac / Square Up
Square Up / Darco Recordings

…

28.
Älice / Honig
Zebra / Raposa

…

29.
Fo Sho / Squad Game
Squad Game / Best Music

…

30.
Ultrafox / Horses
Ice Skating / Major Records

…

31.
Meat Puppets / Up On The Sun
Up On The Sun / SST Records

…

32.
King Gizzard & The Lizard Wizard / Mars For The Rich
Infest The Rats' Nest / Flightless Records

…

33.
Sababa 5 / Ya Hiah (feat. Shiran Tzfira)
Rali / Batov Records

…

34.
Spacemoth / Round In Loops
No Past No Future / Wax Nine

…

35.
Danger Mouse & Black Thought / The Darkest Part (feat. Raekwon & Kid Sister)
Cheat Codes / BMG

…

36.
Pachyman / All Night Long (feat. Winter)
All Night Long (Single) / ATO Records

…

37.
Brockhoff / Sharks
Sharks (Single) / Humming Records

…

38.
Hope Sandoval And The Warm Inventions / Let Me Get There (feat. Kurt Vile)
Let Me Get There (Single) / Tendril Tales

…