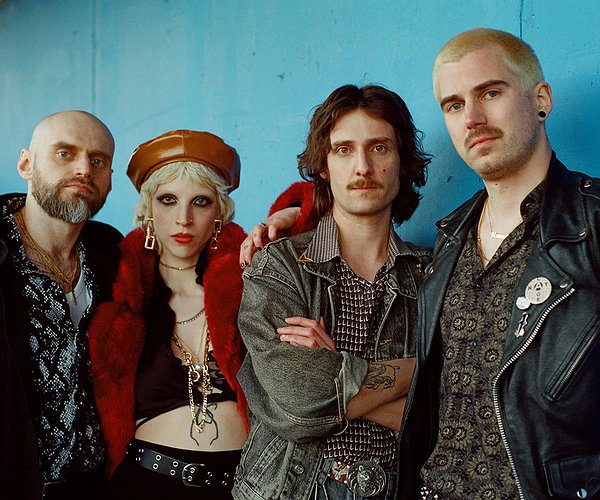 Ihre Texte seien "weder banal noch mega deep" – so die Selbsteinschätzung des Kasseler Punk-Quartetts Suck. Die vier Freund*innen kennen sich schon länger und spielten vor Pandemieausbruch mit ihrer EP "Frog" bereits im Vorprogramm der australischen Punk-Garage-Rock-Band Amyl And The Sniffers, zu denen es durchaus eine musikalische Verwandtschaft gibt. Nicht nur weil beide Bands über charismatische Sängerinnen verfügen.
Die Zwangspause wurde genutzt, um neues Material zu produzieren. Am 23. September 2022 veröffentlichten Suck ihr Debütalbum "Ribbit", auf dem neben rotziger Thrash-Metal-Punk-Attitüde auch Parallelen zu Black Sabbath und Metallica hörbar sind und das klingt, als hätte man ein Livekonzert auf Platte gepresst. Wer an textlichen wie visuellen Provokationen Interesse hat, sollte sich Songs wie "Copkiller", "Roadkill" oder das Video zu "Hell And Heaven" zu Gemüte führen.
Suck sind derzeit auf Tour, präsentiert von ByteFM, und vor ihrem Konzert im Hamburger Hafenklang zu Gast im ByteFM Magazin bei Niklas Holle.
Suck auf Tour:
29.09.22 Berlin – Schokoladen
30.09.22 Hamburg – Hafenklang
01.10.22 Bremen – Karo
02.10.22 Nürnberg – Z-Bau
08.10.22 Leipzig – Conne Island
14.10.22 Offenbach – HfG Kapelle
15.10.22 Basel (CH) – Quarterdeck
03.11.22 Köln – Bumann & Sohn
18.11.22 München – Import/Export
25.11.22 Düsseldorf – Ratinger Hof
(Foto: Aylin Sengül)
Weitere Ausgaben von ByteFM Magazin
Playlist
1.
Frank Ocean / Lost
Channel Orange / Def Jam Records

…

2.
Jane Weaver / The Revolution Of Super Visions (Radio Edit)
The Revolution Of Super Visions (Single) / Fire Records

…

3.
Arctic Monkeys / Body Paint
Body Paint (Single) / Domino

…

4.
Children Of Zeus / Still Standing
The Story So Far... / First Word

…

5.
Audrey Nuna / Time
Time (Single) / Arista / Sony

…

6.
Frankie Lymon & The Teenagers / Why Do Fools Fall In Love
The Best Of Frankie Lymon & The Teenagers / Rhino

…

7.
Frankie Lymon & The Teenagers / Goodie Goodie
The Best Of Frankie Lymon & The Teenagers / Rhino

…

8.
Mac Miller / Blue World
Circles / Warner

…

9.
Eli Preiss / Gameboy
Lvl Up / Universal

…

10.
Sofie Royer / Klein-Marx
Harlequin / Stones Throw

…

11.
Tkay Maidza / Syrup
Syrup (Single) / 4AD

…

12.
Loyle Carner / Nobody Knows
Nobody Knows (Single) / Loyle Carner

…

13.
The Brian Jonestown Massacre / It's About Being Free Really
Fire Doesn't Grow On Trees / A Records

…

14.
Magdalena Bay / Woww
Woww (Single) / Luminelle

…

15.
Gus Black / Autumn Days
Autumn Days / India Records

…

16.
Videoclub / Euphories
Euphories / Petit Lion Productions

…

Stunde 2:
1.
The Go! Team / Divebomb
Divebomb (Single) / Memphis Industries

…

2.
Dagobert / Du Fehlst Mir
Bonn Park / Dagobert

…

3.
Nice & Nasty / Ultimate Rap
No Info / No Info

…

4.
Suck / Hell Or Heaven
Hell Or Heaven (Single) / La Pochette Surprise Records

…

5.
Suck / Rat King
Ribbit / La Pochette Surprise Records

…

6.
Suck / Copkilla
Ribbit / La Pochette Surprise Records

…

7.
Suck / Gravedigger
Ribbit / La Pochette Surprise Records

…

8.
The Flaming Lips / Mother I've Taken LSD
American Head / Bella Union

…

9.
The Apples In Stereo / About Your Fame
Tone Soul Evolution / Sire

…

10.
Fehlfarben / 14 Tage (12" Version)
Glut Und Asche / Vertigo/Capitol

…

11.
Die P / Angesagt
Tape / 365XX/PIAS

…

12.
The Beach Boys / Surfin' Safari
Surfin' Safari / Capitol

…

13.
And You Will Know Us By The Trail Of Dead / Don't Look Down
X: The Godless Void and Other Stories / Sony

…

Stunde 3:
1.
Ultraflex / Rhodos
Rhodos (Single) / Street Pulse

…

2.
Tom Petty & The Heartbreakers / American Girl
Tom Petty & The Heartbreakers / MCA

…

3.
Tom Petty / Free Fallin'
Full Moon Fever / MCA

…

4.
Verifiziert / Schlaflos
Schlaflos (Single) / Verifiziert/Columbia

…

5.
Trixsi / Schlangenmann
... And You Will Know Us By The Grateful Dead / Glitterhouse Records

…

6.
Sudan Archives / Glorious
Athena / Stones Throw

…

7.
Nick Mulvey / Fever To The Form
First Mind / Fiction

…

8.
Lioness / Danisa (Dance)
Dance & Dance / Empawa Africa

…

9.
T.Rex / Ride A White Swan
Ride A White Swan (Single) / Fly

…

10.
Tyrannosaurus Rex / Stacey Grove
Prophets, Seers & Sages The Angels Of The Ages / Universal

…

11.
Phillip Boa And The Voodooclub / The One Who Howls At The Moon
Bleach House / Cargo

…

12.
Bruce Springsteen / Open All Night
Nebraska / CBS

…

13.
King Hannah / State Trooper
State Trooper / City Slang

…

14.
Leikeli47 / CIAA
Acrylic / Hardcover/RCA

…

15.
Eastside Connection / You're So Right For Me (Vocal)
You're So Right For Me (Single) / Rampart Records

…