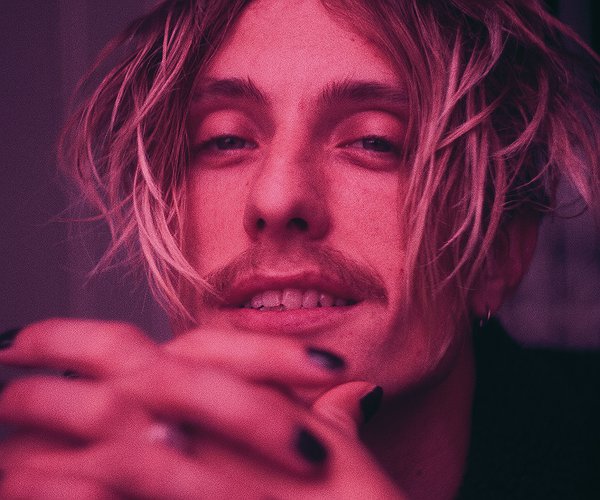 Gefühlvolle, mal melancholisch-düstere Sounds sowie die Sehnsucht nach besseren Zeiten: Der psychedelische Dreampop von The Haunted Youth erinnert an Acts wie MGMT, DIIV, Slowdive oder The Cure. Die fünfköpfige Band um den 29-jährigen Joachim Liebens aus dem belgischen Hasselt hat sich in kürzester Zeit zu einer der bekanntesten Indie-Bands Belgiens etabliert. Ihre Songs handeln von Hoffnung, Verzweiflung und dem Gefühl, irgendwie nicht ganz dazuzugehören, untermauert von verträumten Gitarrenriffs und nostalgischen Synthie-Sounds.
Das Jahr 2022 markiert den bisherigen Höhepunkt der noch jungen Karriere des Quintetts: Im November erschien ihr, von Liebens komplett selbst geschriebenes und produziertes Debütalbum "Dawn Of The Freak". Außerdem spielten sie europaweit auf mehreren Festivals und waren auf dem Reeperbahn Festival für den ANCHOR Award nominiert.
Vor ihrem Konzert im Hamburger Nochtspeicher ist Joachim Liebens von The Haunted Youth im ByteFM Magazin bei Niklas Holle zu Gast.
The Haunted Youth sind derzeit auf Tour, präsentiert von ByteFM:
20.01.23 Hamburg – Nochtspeicher
21.01.23 Dortmund – FZW
12.04.23 Nürnberg – Muz Club
13.04.23 Stuttgart – clubCANN
14.04.23 Wiesbaden – Schlachthof
(Foto: Robin Todde)
Weitere Ausgaben von ByteFM Magazin
Playlist
1.
Eye To Eye / Nice Girls
Eye To Eye / Warner

…

2.
Haley Bonar / No Sensitive Man
Last War / Memphis Industries

…

3.
Leikeli47 / CIAA
Acrylic / Hardcover/RCA

…

4.
Tocotronic / Crash
Nie Wieder Krieg / Universal

…

5.
The Paper Kites / Lonely Feat. Gena Rose Bruce
Roses / Sony

…

6.
Pip Millett / Smoking
When Everything Is Better, I'll Let You Know / Sony Music

…

7.
Jamilah Barry / If The Love Goes
If The Love Goes - A Colors Show (Single) / Colorsxstudios

…

8.
Quasi / Nowheresville
Nowheresville (Single) / Sub Pop Records

…

9.
Edwin Rosen / Verschwende Deine Zeit
Verschwende Deine Zeit (Single) / Irrsinn Tonträger

…

10.
Florence & The Machine / You Got The Love (The XX Remix)
Remixes EP / Underground Collective

…

11.
Nothhingspecial / If I Could I Would
If I Could I Would (Single)

…

12.
Rocko Schamoni / Das Bin Nicht Ich
Das Bin Nicht Ich (Single) / Misitunes

…

13.
Hazel English / Never Going Home
Just Give In / Never Going Home (EP) / Marathon Artists

…

14.
Karies / Laguna Seca
Laguna Seca (Single)

…

15.
Steely Dan / Glamour Profession
Gaucho / Geffen

…

16.
Frankie Cosmos / Sand
Fit Me In / Bayonet Records

…

17.
The Haunted Youth / Teen Rebel
Dawn Of The Freak / Mayway Records

…

18.
The Haunted Youth / Broken - Live im Studio

…

19.
The Haunted Youth / Fist In My Pocket
Dawn Of The Freak / Mayway Records

…

20.
Machinedrum / Kane Train (feat. Freddie Gibbs)
Kane Train / Ur2yung (Single) / Ninja Tune

…

21.
Nia Archives / So Tell Me...
So Tell Me... (Single) / Nia Archives / Universal

…

22.
Jennifer Lara / I Am In Love
Studio One Women / Soul Jazz Records

…

23.
Oasis / Wonderwall
Wonderwall (Single) / Helter Skelter

…

24.
Hercules & Love Affair / My House
Blue Songs / Cooperative Music

…

25.
The Sea And Cake / Left Side Clouded
One Bedroom / Thrill Jockey

…

26.
The Sea And Cake / Hotel Tell
One Bedroom / Thrill Jockey

…

27.
Aaron Frazer / Bad News
Introducing ... / Dead Oceans

…

28.
Stella Sommer / In My Darkness
In My Darkness (Single) / Buback

…

29.
Rozi Plain / Sore
Prize / Memphis Industries

…

30.
Mercury / Running Round
Running Round (Single) / Honeymoon

…

31.
Crosby, Stills, Nash & Young / Almost Cut My Hair
Déjà Vu / Atlantic

…

32.
Jeans Team / Keine Melodien
Keine Melodien / Jeans Team

…

33.
The Postal Service / Such Great Heights
Give Up / Sub Pop

…

34.
Bibi Club / La Nuit
La Nuit (Single) / Secret City

…

35.
Lalalar / Bi Cinnete Bakar
Bi Cinnete Bakar / Les Disques Bongo Joe

…

36.
Toro Y Moi / Ordinary Pleasure
Ordinary Pleasure (Single) / Carpark

…

37.
Slim Whitman / Rose Marie
The Very Best Of Slim Whitman / United Artists Records

…

38.
Ezra Collective / What Am I To Do? (feat. Loyle Carner)
You Can't Steal My Joy / Enter The Jungle

…

39.
Jovanotti / Ricordati Di Vivere
Il Disco Del Sole / Capitol

…

40.
ESG / Six Pack
Step Off / Fire

…

41.
Dekker / Maybe October
I Won't Be Your Foe / Useful Fictions

…

42.
Beyoncé / Virgo's Groove
Renaissance / Parkwood Entertainment / Columbia

…

43.
Eli Preiss / Gameboy
Lvl Up / Universal

…