Canteen Hotter than July Part 3

(15.07.2019)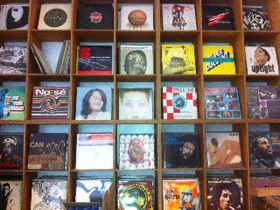 Ausgabe vom 15.07.2019: Hotter than July Part 3
Hören
Endgültige Entspannung dank eingebildeter Feldeinsamkeit und der (vor- oder nach-)mittäglichen Ruhephase eines gut bedrohnten Liegestuhls. Fast kann man die Fische singen hören unter dem durchsonnten Spiegel der Wasseroberfläche.

Genug gedichtet: Im dritten und letzten Teil der diesjährigen Sommerferien Canteen Sendungen kommen wir ganz tief runter, bis zum Ende hin nur noch vereinzelte Klaviertöne, der anschlaglose Sound metallener Gitarren-Saiten und das resonante Brummen freundlicher Elektrik zu vernehmen sind.

Da könnte man sich glatt nochmal hinlegen: "In winter I get up at night / And dress by yellow candle-light. In summer quite the other way / I have to go to bed by day." (Robert Louis Stevenson).

In diesem Sinne: Bliss out!
Weitere Ausgaben von Canteen
Playlist
1.
Mary Yalex / Here And Nowhere Else
Remember When / Dichotomy
2.
Mr. Oizo / Dolce Vita (Feat. Phra)
Rhythme Plat / Ed Banger
3.
Agoria / Embrace
Drift / Sapiens
4.
Fahrland / Flying
Oneness / https://fahrland.bandcamp.com/
5.
FKJ / Leave My Home
Leave My Home / FKJ
6.
Schoolboy Q / Black Folk
CrasH Talk / Top Dawg/Interscope
7.
Damon Locks Black Monument Ensemble / The Colors That You Bring
Where Future Unfolds / Inernational Anthem
8.
Toro Y Moi / Baby Drive It Down
Outer Peace / Carpark
9.
CVN / Zen Of Equilibrium
I.C. / Orange Milk
10.
SPIME.IM / Exaland VII
Exaland / ~ous
11.
Stefan Goldmann / Covert Bias
Tacit Script / Macro
12.
Adam Coney / The Printed Sound
Pavillon / Trestle
Stunde 2:
1.
Hammock / We Are More Than We Are
Universalis / Hammock
2.
Rone / Draft 38
Golden Solitude / InFiné
3.
Jan Wagner / Nummer l
Nummern / Klangbad
4.
Kin Leonn / There Were Days
Commune / Kitchen
5.
Hania Rani / Esja
Esja / Gondwana
6.
Kuba Kapsa Ensemble / Unspoken Is Better
Supersonic Moth / Denovali
7.
Martyn Heyne / Telepath
Shady & Light / RecordJet
8.
Chuck Johnson / Brahmi
Balsams / Tak:til
9.
The Cinematic Orchestra / Zero One/This Fantasy (feat. Grey Reverend)
To Believe / Ninja Tune
10.
Emily Sprague / A Lake
Water Memory / Mount Vision / RVNG
11.
Kid Koala / All For You (feat. Trixie Whitley)
Music To Draw To: Io / Arts&Craft
12.
Luke Howard / I Still Dream About You, Sometimes But Not Always (Snorri Hallgrímsson Rework)
Beating Heart Stories / Mercury Classics