Forward The Bass
The Nextmen vs. Gentleman's Dub Club, Alborosie u.a.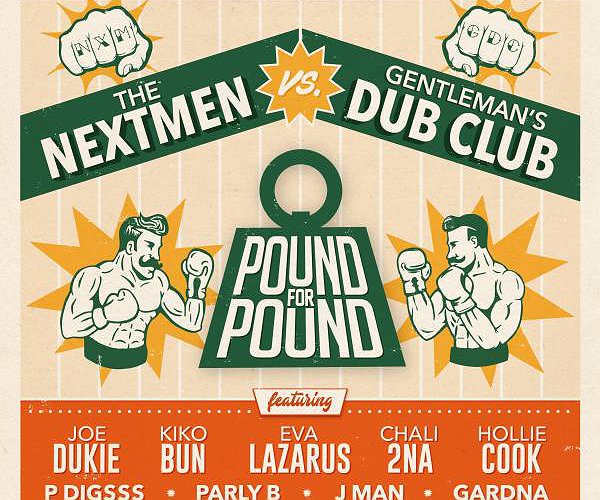 The Nextmen haben sich mit Gentleman's Dub Club zusammen getan und ein wirklich beachtliches Album zusammengeschraubt! Die beiden britischen Produzenten und die englische Band bedienen auf "Pound For Pound" diverse Spielarten des Reggaes und haben sich neben britischen auch internationale Artists eingeladen. So sind z.B. Joe Dukie (Fat Freddy's Drop), Gardna,
Hollie Cook
, Eva Lazarus und Parly B mit dabei.
Zudem gibt es Musik von The PathHeights, Bionic Clarke, Inna de Yard, Alborosie und den Dub Shepherds zu hören. Außerdem ist mit "Fossil Fuels" ein neuer Track von Groundation mit dabei. Im September gibt es von den Kaliforniern das lange erwartete Album "The Next Generation".
Weitere Ausgaben von Forward The Bass
Playlist
1.
Bionic Clarke / Mr. Bionic
Single / Eleven Seven Records

…

2.
The Pathheights / Way Off
Twin Flamezz / Echo Beach

…

3.
Kush Mcanuff / Black To I Roots
The Soul Of Jamaica / Chapter Two

…

4.
Groundation / Fossil Fuels
The Next Generation / Baco Records

…

5.
Ivan Jah / A True Story
Downtown Trouble / ODG Productions

…

6.
Gentleman's Dub Club / Earthquake
The Big Smoke / Easy Star Records

…

7.
The Nextmen Vs. Gentleman's Dub Club / Highs And Lows Feat. Joe Dukie
Pound For Pound / Pound For Pound Recordings

…

8.
The Nextmen Vs. Gentleman's Dub Club / Spooky Feat. Hollie Cook
Pound For Pound / Pound For Pound Recordings

…

9.
The Nextmen Vs. Gentleman's Dub Club / Rudeboy Feat. Gardna
Pound For Pound / Pound For Pound Recordings

…

10.
The Nextmen Vs. Gentleman's Dub Club / Misty Eyes Feat. Eva Lazarus
Pound For Pound / Pound For Pound Recordings

…

11.
The Nextmen Vs. Gentleman's Dub Club / One Horse Town Feat. J Man
Pound For Pound / Pound For Pound Recordings

…

12.
Alborosie / Mission
Unbreakable / Greensleeves

…

13.
Alborosie / Contradiction Feat. Chronixx
Unbreakable / Greensleeves

…

14.
Kandee Meets Dub Shepherds / A Turn On The Red Light Feat. Jolly Joseph
Single / Culture Dub Records

…