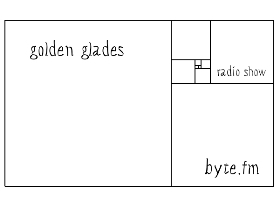 Ausgabe vom 04.11.2009:
Leben und Tod
Wenn das Jahr zur Neige geht, wird es wieder einmal Zeit, die letzten Fragen zu stellen. Wie steht es um das Leben, was ist der Tod? Golden Glades antwortet ausweichend: You
can
¹t have one without the other. Vorschlag zur Güte: eine Stunde lang Leben, eine Stunde lang Tod. Mit dabei im Diesseits: The Make-Up,
The Feelies
und
Talk Talk
. Dahinscheidend oder -geschieden:
The Thermals
,
Belle & Sebastian
und McCarthy.
Weitere Ausgaben von Golden Glades
Playlist
1.
The Make-Up / Born On The Floor
I Want Some / K Records

…

2.
North Of America / The Life Of Fortitude
Elements Of An Incomplete Map / Rewika

…

3.
Viva Voce / Alive With Pleasure
The Heat Can Melt Your Brain / Full Time Hobby

…

4.
Saloon / The Good Life
If We Meet In the Future / Darla

…

5.
Get Set Go / My Wasted Life
Ordinary World / TSR Rec.

…

6.
The Feelies / It's Only Life
Only Life / Water

…

7.
The Shins / The Celibate Life
Oh, Inverted World / Sub Pop

…

8.
Holiday Shores / Edge Of Our Lives
Columbus'd The Whim / twosyllable

…

9.
Masha Qrella / One Life To Live
Speak Low - Loewe And Weill In Exile / Morr Music

…

10.
Everything But The Girl / The Spice Of Life
Eden / Warner

…

11.
Grizzly Bear / Slow Life
The Twilight Saga: New Moon / Atlantic

…

12.
The Beatles / In My Life
Rubber Soul / Apple

…

13.
Lights On / Ordinary Life
Waiting For The Heart To Beat / The Rebel Group

…

14.
Spoon / Back To The Life
Kill The Moonlight / 12XU

…

15.
Photons / Something Left to Live For
Photons EP / self-released

…

16.
Talk Talk / Life's What You Make It
The Colour of Spring / EMi

…

Stunde 2:
1.
Sweet Sweet Concorde / Time To Die
Life In The Canopy / Series II

…

2.
The Thermals / When I Died
Now We Can See / Kill Rock Stars

…

3.
Kyle Fischer / Fetch A Coffin!
Black Milk / EndUp Records

…

4.
Portico / My Teenage Best Friend's Death In Welland
First Neighbours / Copperspine

…

5.
Belle & Sebastian / It Could Have Been A Brilliant Career
The Boy With The Arab Strap / Jeepster

…

6.
Reverie Sound Revue / You Don't Exist if I Don't See You
Reverie Sound Revue / Boompa

…

7.
The Dodos / Small Deaths
Time To Die / Wichita

…

8.
Teenage Fanclub / Cells
Man-Made / PeMa

…

9.
Laura Gibson / Funeral Song
Beasts Of Seasons / Hush

…

10.
McCarthy / The Funeral
That's All Very Well But / Cherry Red

…

11.
The Smiths / Cemetry Gates
The Queen Is Dead / Rough Trade

…

12.
The Octagon / Suicide Kings
Arm Brain Heart and Liver / self-released

…

13.
Hot Snakes / Suicide Invoice
Suicide Invoice / Swami

…

14.
Ra Ra Riot / Dying Is Fine
The Rhumb Line / Barsuk

…

15.
Black Hat Brigade / Zombie City Shake
Fathers EP / self-released

…

16.
The Got To Get Got / Gettin Dirty In The After Life
Sahalee / Noyes

…

17.
Wheat / Living to Die
White Ink, Black Ink / Rebel Group

…

18.
Ganglians / Something Should Be Said
Monster Head Room / Woodsist

…