Golden Glades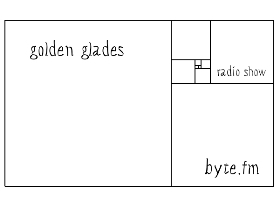 Ausgabe vom 08.02.2012:
Hören
Zum optimalen Genuss dieser Sendung bedarf es ein paar guter Kopfhörer, denn in allen Songs geht es um das, was im Background passiert. Hintergründige Alltagsgeräusche, experimentelle Soundgestaltung oder auch herausragender Chorgesang finden sich u.a. bei
Ariel Pink
's Haunted Graffiti, The Books und wie sollte es anders auch sein, ­ The Beach Boys.
Weitere Ausgaben von Golden Glades
Playlist
1.
Baths / Aminals
Cerulean / Anticon
2.
Caetano Veloso / Tropicália
Caetano Veloso / Universal
3.
Fairport Convention / Chelsea Morning
Fairport Convention / Island
4.
Ariel Pink's Haunted Graffiti / Beverly Kills
Ariel Pink Before Today / 4ad
5.
The Limiñanas / Je Ne Suis Pas Trés Drogué
The Limiñanas / Trouble In Mind Rec.
6.
Pink Floyd / Flaming
The Piper At The Gates Of Dawn / Emi
7.
The Velvet Underground / Lady Godiva's Operation
White Light/White Heat / Verve
8.
Maps & Atlases / Perch Patchwork
Perch Patchwork / Fat Cat
9.
Trouble Books / Ascending Kidney
Gathered Tones / Own
10.
The Match / Through Spray Colored Glasses
Through Salt Water Windows
11.
The Beach Boys / Surf's Up
The Smile Sessions / Capitol
12.
Marine Girls / Holiday Song
Lazy Ways/Beach Party / Cherry Red
13.
Birthmark / Be However You Please
Fossil Record [Websingle] / Birthmark.Bandcamp.Com
14.
Belle And Sebastian / If You're Feeling Sinister
If You're Feeling Sinister / Jeepster
15.
My Friend Wallis / Beautiful Shit
When The Blue Turned Yellow / Myfriendwallis.Bandcamp.Com
Stunde 2:
1.
The Books / The Lemon Of Pink
The Lemon Of Pink / Tomlab
2.
Boris Smile / Greatham Is Great
My Love Powered By 10,000 Practice Amps / Count Your Lucky Stars
3.
The Clientele / The Green Man
Minotaur / Merge
4.
Françoise Hardy / Le Martien
La Question / Virgin
5.
The 13th Floor Elevators / Roller Coaster
The Psychedelic Sounds Of The 13th Floor Elevators / Charly Records
6.
Zoey Van Goey / We Don't Have That Kind Of Bread
The Cage Was Unlocked All Along / Chemical Underground
7.
Gruff Rhys / Shark Ridden Waters
Shark Ridden Waters / Ovni
8.
Of Montreal / Spiteful Intervention
Paralytic Stalks / Polyvinyl
9.
Kathryn Calder / Five More Years
Bright And Vivid / File Under: Music
10.
Gigi / The Old Graveyard
Maintenant / Tomlab
11.
The National Gallery / Fear Of Becoming Double
Performing Musical Interpretations Of The Paintings Of Paul Klee / Start Entertainments
12.
Snowglobe / Love
Little More Lived In / Makeshift
13.
Reigns / The Diagram
The Widow Blades / Monotreme Records
14.
Drew Danburry / Many Are Cold, But Few Are Frozen
Goodnight Gary / Emergency Umbrella