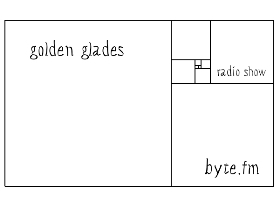 Zwei Herzen schlagen heute, ach, in der Brust von Golden Glades: harmonieverliebter Indierock und beseelter Elektropop.
Zeitweilig kann es zu zarten Rhythmusstörungen kommen, doch schlussendlich wird Frau Zettpunkt dafür sorgen, dass der Puls auf eine angenehme Frequenz zurückfährt.
Unterstützend wirken Beiträge u.a. von
The Pastels
, The Bevis Frond und The Bicycles.
Weitere Ausgaben von Golden Glades
Playlist
1.
The Grapes Of Wrath / Isn't There
High Road / Aporia Records

…

2.
Dick Diver / Lime Green Shirt
Calendar Days / Chapter Music

…

3.
Brightener / Echoes
Make Real Friends - EP / Brightener.Bandcamp.Com

…

4.
The Miracals / I Don't Really Like It
Give Me A Chance - EP / Themiracals.Bandcamp.Com

…

5.
HAP / Shopping The Collection
Corners / Hapmusic.Bandcamp.Com

…

6.
Evan & The Brave / Stay This Way
Stay This Way - Single / Self-Released

…

7.
Kid Astray / Like You Care
Easily Led Astray - EP / Brilliance Records

…

8.
The Bevis Frond / More Chalk
White Numbers / Woronzow

…

9.
Wild Honey / An Army Of Fat Synths
Big Flash / Lazy Recordings

…

10.
AM & Shawn Lee / Suffer Like Me
La Musique Numerique / Park The Van

…

11.
Pretty & Nice / Money Music
Golden Rules For Golden People / Equal Vision

…

12.
Bibio / Raincoat
Silver Wilkinson / Warp

…

13.
Powerdove / Out Of The Rain
Do You Burn? / Africantape

…

14.
The Pastels / Summer Rain
Slow Summits / Domino

…

15.
Giant Fang / Kingdom
Kingdom - Free Download / Giantfang.Bandcamp.Com

…

16.
The Leisure Society / Fight For Everyone
Alone Aboard The Ark / Full Time Hobby

…

Stunde 2:
1.
Opus Orange / So It Goes
So It Goes - Single / Opusorange.Bandcamp.Com

…

2.
COIN / Atlas
Atlas - Single / Self-Released

…

3.
Brooke Waggoner / Rumble
Originator / Swoon Moon Music

…

4.
Liam Singer / Stranger I Know
Arc Iris / Hidden Shoal

…

5.
Mesita / XYXY
XYXY EP / Mesita.Bandcamp.Com

…

6.
Captain & The Princess / My Legs Are Electric
Black Hawks & Little Birds EP / Self-Released

…

7.
Baths / Miasma Sky
Obsidian / Anticon

…

8.
Uniform Motion / The Telephone Box
The Magic Empire / Uniformmotion.Bandcamp.Com

…

9.
The Front Bottoms / Swear To God The Devil Made Me Do It
Talon Of The Hawk / Bar/None Records

…

10.
The Bicycles / Bandana Cat
Stop Thinking So Much / Thebicycles.Bandcamp.Com

…

11.
The Four Seasons / Watch The Flowers Grow
25th Anniversary Collection / Rhino

…

12.
The Flower Pot Men / You Can Never Be Wrong
Let's Go To San Francisco / Deram Records

…

13.
Twinstar / Amazon Eyes
The Sound Of Leaving / Commercial Suicide

…

14.
The Brilliant Corners / Brian Rix
Heart On Your Sleeve: A Decade In Pop 1983-1993 / Cherry Red

…

15.
Matt Pond / Strafford
The Lives Inside The Lines In Your Hand / BMG

…

16.
The Boy Least Likely To / Thank You For Being My Friend
The Great Perhaps / Theboyleastlikelyto.Bandcamp.Com

…

17.
Tobias Fröberg / Love And Misery
Somewhere In The City / Fireegg Records

…