Golden Glades
Spirits From The Past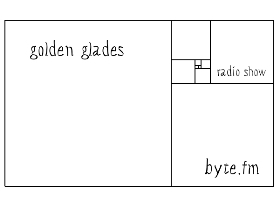 Ausgabe vom 23.10.2019: Spirits From The Past
Hören
Jede Menge Spirits From The Past führen uns durch die heutige Sendung: Musikschaffende und Bands, die an vergangene Epochen anknüpfen. Da wäre etwa der schmissige Indierock von Corridor aus Montreal, mit sich duellierenden Gitarrenparts und einem parolenartigen Gesang in Quebecer Französisch. Jeder Song auf ihrem dritten Album "Junior" klingt kraftvoll und frisch (und ein bisschen nach 80er Postpunk).
Ganz anders der üppig ausgeschmückte Songwriter-Pop von John Howard. Seine smarten Arrangements und geschmeidigen Melodien könnten einem bislang unentdeckten Juwel der 70er entstammen. Und tatsächlich: Schon 1975 gab der Brite sein Debüt als Sänger und Songwriter, allerdings ohne durchschlagenden Erfolg. Auch Howards neues Album "Cut The
Wire
" wird wohl kein Chartbreaker werden, obwohl sich sein meisterhafter Pop gleich hinter Harry Nilsson und
Todd Rundgren
einreiht. Und noch einen geradezu kriminell unterschätzten Nostalgiker wollen wir ehren:
Stephen Duffy
von The Lilac Time.
Weitere Ausgaben von Golden Glades
Playlist
1.
The Martial Arts / You've Ruined Everything
I Used To Be The Martial Arts EP / Last Night In Glasgow
2.
Comet Gain / The Institute Debased
Fireraisers Forever! / Tapete Records
3.
U-Bahn / Beta Boyz
U-Bahn / Melodic
4.
Strawberry Guy / Taking My Time To Be
Taking My Time To Be EP / Melodic
5.
Big Thief / Forgotten Eyes
Two Hands / 4AD
6.
Omni / Courtesy Call
Networker / Sub Pop
7.
Corridor / Goldie
Junior / Sub Pop
8.
Corridor / Junior
Junior / Sub Pop
9.
Allah-Las / Holding Pattern
Lahs / Mexican Summer
10.
Mark Fry / Dreaming With Alice (Verse 1)
Dreaming With Alice / Sunbeam Records
11.
Mark Fry / Down Narrow Streets
Dreaming With Alice / Sunbeam Records
12.
Dumb Instrument / That Stupid Wee Lassie From Elderslie
Doubt / Bad Tool Records
13.
Orange Crate Art / Somebody Else is on the Moon
Astral Lullabies on the Threshold / orangecrateart.bandcamp.com
14.
Outer Spaces / Truck Song
Gazing Globe / Western Vinyl
15.
The Hangabouts / Who Wants Cilla
Who Wants Cilla b/w Mrs Greene (single) / https://hangabouts.bandcamp.com
16.
Walrus / Cool to Who
Cool to Who / Outside Music
17.
U.S. Highball / 697 President
Great Record / Lame-O Records
Stunde 2:
1.
Stephen Duffy / In the Evening of Her Day
I Love My Friends / Needle Mythology
2.
The Lilac Time / (I'm) A Believer
Return to Us / BMG
3.
BALDUIN / Mr. Abernathy
Look At Me I'm You / balduin.bandcamp.com
4.
BALDUIN / Rainbow Eyes
Look At Me I'm You / balduin.bandcamp.com
5.
The Young Sinclairs / Truth Can't Be Tried
Out Of The Box / Requiem Pour Un Twister
6.
The Young Sinclairs / Action Movies
Out Of The Box / Requiem Pour Un Twister
7.
The Hecks / Chopper
My Star / Trouble In Mind
8.
Corridor / Domino
Junior / Sub Pop
9.
Daphne Tunes / Bagpacking
Gazers #3 / Gazer Tapes
10.
Poppel / Don't Wait
Gazers #3 / Gazer Tapes
11.
The Memory Fades / Listening To The Marychain
Space Pilot 4 Track EP / thememoryfades.bandcamp.com
12.
The Jesus & Mary Chain / Just Like Honey (Demo Oct '84)
Scared to Get Happy: Story of Indie Pop 1980-1989 / Cherry Red
13.
John Howard / Remains
Cut The Wire / You Are The Cosmos
14.
John Howard / Jean Genet Just Imagined
Cut The Wire / You Are The Cosmos
15.
Bedouine / When You're Gone
Bird Songs Of A Killjoy / Caroline
16.
Julien Chang / Candy Cane Rainbow
Jules / Transgressive Records