Let's get lost!
Thema Nevermind: Portland is the new Seattle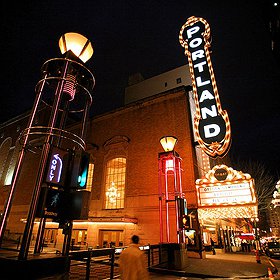 In den 90er Jahren, zur Hochzeit von Grunge, galt Seattle als Indie-Metropole der USA. Mittlerweile hat Portland ihr den Rang abgelaufen.
Schon 2007 beschwört Kulturjournalist Stephen Armstrong von der Sunday Times die Stadt in Oregon als neues Indie-Mekka. Und die Protagonisten der aktuellen TV-Serie Portlandia singen: "
The dream of the 90s is alive in Portland
".
Aber: Warum wächst und gedeiht die Musikszene dort schneller als andernorts? Was hält so viele Musiker in bzw. zieht sie nach Portland? Und gibt es den speziellen Portland-Sound?
Let's Get Lost hat sich auf die Suche nach Antworten gemacht.
(Bild:
Cacophony | Wikimedia Commons | CC BY 2.5
)
Weitere Ausgaben von Let's get lost!
Playlist
1.
Courtney Love / Hello
America's Sweetheart / Virgin

…

2.
Team Dresch / Take On Me
Captain My Captain / Chainsaw

…

3.
Wild Flag / Romance
Romance 7'' / Merge

…

4.
The Simpsons (Alf Clausen) / Who Needs The Kwik-E-Mart
Songs In The Key Of Springfield / Rhino

…

5.
Elliott Smith / The Enemy Is You
Either/Or (Japan-Release) / Dreamworks

…

6.
Crosstide / Angeles
To: Elliott, From: Portland / Expunged

…

7.
The Dandy Warhols / Bohemian Like You
Thirteen Tales From Urban Bohemia / Capitol

…

8.
The Thermals / I Don't Believe You
Personal Life / Kill Rock Stars

…

9.
Hockey / 3AM Spanish
Mind Chaos / Capitol

…

10.
31 Knots / Hit List Shakes
The Days And Nights Of Everything Anywhere / Polyvinyl

…

11.
Laura Veirs / July Flame
July Flame / Bella Union

…

12.
Blitzen Trapper / Summer Twin
Field Rexx / Lidkercow

…

13.
Modest Mouse / One Chance
Good News For People Who Love Bad News / Epic

…

14.
Portugal. The Man / People Say
The Satanic Satanist / Definace

…

15.
Gossip / Spare Me From The Mold
Music For Men / Columbia

…

16.
Spoon / Finer Feelings
Ga Ga Ga Ga Ga / Merge

…

17.
Stephen Malkmus / Phantasies
Stephen Malkmus / Domino

…

18.
The Shins / Flake Music
Flake Music / Scared Of Chaka / 702 Records

…

19.
Herman Dune / Lay Your Head On My Chest
Strange Moosic / City Slang

…

20.
Carrie Brownstein & Fred Armisen / Dream Of The 90's
Portlandia 7'' / Broadway

…

21.
YACHT / Utopia (Jeffrey Jerusalem Remix)
Utopia Remixes / DFA Records

…