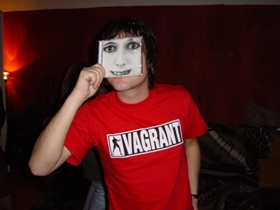 Sehr archaische Klänge gibt es von der Kanadischen Künstlerin Tanya Tagaq auf dem Album "Animism" zu hören. Frischen und ungestümen Indie-Pop bieten hingegen The Sidekicks. Ihr Album "Runners In The Nerved World" klingt eine Spur zu glatt und überproduziert, macht aber trotzdem eine Menge Spaß und verbreitet gute Laune beim Hören.
Düstere Beats kommen von
Beat Spacek
und Ex-
Tunng
Mitglied Sam Genders lotet mit seiner neuen Band Diagrams auf "
Chromatics
" die Farben zwischen Folk und Pop aus.
Weitere Ausgaben von Sunday Service
Playlist
1.
Poppy Ackroyd / Timeless
Feathers / Denovali

…

2.
Renegades Of Jazz / Fire
Paradise Lost / Agogo

…

3.
We Are Not Afraid / Buttons
Holes / Irma Group

…

4.
All We Are / Keep Me Alive
All We Are / Domino

…

5.
Gang Of Four / Broken Talk
What Happens Next / Membran

…

6.
Jib Kidder / Illustration
Teaspoon To The Ocean / Weird World

…

7.
Tanya Tagaq / Uja
Animism / Six Shooter

…

8.
Tanya Tagaq / Fight
Animism / Six Shooter

…

9.
Hanni El Khatib / Melt Me
Moonlight / Innovative Leisure

…

10.
Frankie Chavez / Sweet Life / Search

…

11.
Annique / Loved Not Understood
Heads Up / Asphalt Tango

…

12.
Jonas Alaska / In The Backseat
Tonight / Popup

…

13.
Kiasmos / Thrown
Kiasmos / Erased Tapes

…

Stunde 2:
1.
Atari Teenage Riot / J1M1
Reset / Digital Hardcore

…

2.
Cracker / March Of The Billionaires
Berkeley To Bakersfied / Freeworld

…

3.
Cracker / Beautiful
Berkeley To Bakersfied / Freeworld

…

4.
Beat Spacek / Inflight Wave
Modern Streets / Ninja Tune

…

5.
Beat Spacek / I Want You
Modern Streets / Ninja Tune

…

6.
The Sidekicks / Hell Is Warm
Runners In The Nerved World / Epitaph

…

7.
The Sidekicks / The Kid Who Broke His Wrist
Runners In The Nerved World / Epitaph

…

8.
Menace Beach / Elastic
Ratworld / Memphis Industries

…

9.
Menace Beach / Dig It Up
Ratworld / Memphis Industries

…

10.
Menace Beach / Tastes Like Medicine
Ratworld / Memphis Industries

…

11.
Taraf De Haidouks / Moldavian Shepherds Dance
Of Lovers, Gamblers And Parachute Skirts / Crammed Discs

…

12.
Diagrams / Gentle Morning Song
Chromatics / Full Time Hobby

…

13.
Diagrams / Dirty Broken Bliss
Chromatics / Full Time Hobby

…

14.
Marcel Gein / Falten
Passanten / Tapete

…

15.
Hypercolor / Quixotic
Hypercolor / Tzadik

…