Verstärker
Wu-Tang is for the children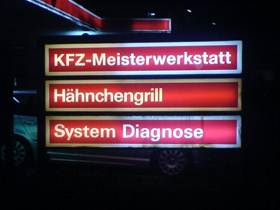 Ausgabe vom 19.10.2010: Wu-Tang is for the children
Hören
This is what Wu Tang do, come with something beautiful for you, like high science. Einstein has a formula, Wu Tang has a formula. A part equals a square and all that stuff, you know what I'm saying? We have a formula, too. The formula is to attack everything at any given time. Just attack and shit like a waterfall, or like water in rapids or more like a fucking whirlpool, "Fuck you."

Worte wie in Stein gemeißelt! Der das gesagt hat, hieß Russell Jones aka Ol' Dirty Bastard aka ODB aka Big Baby Jesus aka Oiris aka Dirt McGirt aka Florian Silbereisen (vermutlich), geboren am 15.11. 1968, gestorben am 13.11. 2004.
Ol' Dirty Bastard, dem letzten großen Irren des Pop, widmet Verstärker eine Spezialausgabe.

Wu-Tang is for the children, motherfuckers!

Weitere Ausgaben von Verstärker
Playlist
1.
Ol' Dirty Bastard / Baby C'mon
Return To The 36 Chambers / Elektra
2.
Ol' Dirty Bastard / Brooklyn Zoo
Return To The 36 Chambers / Elektra
3.
Wu-Tang Clan / Protect Ya Neck
Enter The Wu-Tang (36 Chambers) / Sony
4.
Ol' Dirty Bastard / The Stomp
Return To The 36 Chambers / Elektra
5.
El Michels Affair / Shimmy Shimmy Ya
Enter The 37th Chamber / Groove Attack
6.
Genius/GZA / Duel Of The Iron Mic
Liquid Swords / Universal
7.
Wu-Tang Clan / As High As Wu-Tang Get
Wu-Tang Forever / Sony
8.
Wu-Tang Clan / Triumph
Wu-Tang Forever / Sony
9.
Ol' Dirty Bastard / Got Your Money (Feat. Kelis)
Nigga Please / Elektra
10.
The Neptunes Feat. Dirt McGirt / Pop Shit
The Neptunes Present…Clones / Arista
11.
Ol' Dirty Bastard / I Can't Wait
Nigga Please / Elektra
12.
Wu-Tang Clan / 19th Chamber – ODB Special
8 Diagrams / Intergroove
13.
Ol' Dirty Bastard / Snakes
Return To The 36 Chambers / Elektra