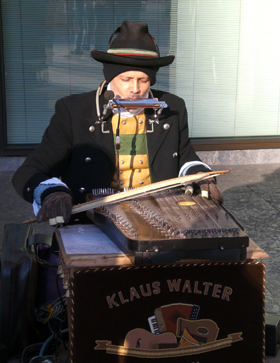 Ausgabe vom 16.08.2009: Being A Mod
"Wir sind die, wir sind die, wir sind die Modernisten. Clean Living under Difficult circumstances – that's what it means to be a mod"
Unter diesem Titel macht sich der Hamburger Künstler
Armin Chodzinski
in der aktuellen Ausgabe der Zeitschrift
Kultur & Gespenster
Gedanken über Mods, Modism, Modernism.
Seit den ersten Platten der Small Faces, der Kinks und vor allem
The Who
sind 45 Jahre vergangen. Was kann uns die Mod-(Sub)Kultur heute noch sagen? Warum beschwören Bands wie Superpunk 2009 den Geist der Mods der Sechziger, warum läuft
Damon Albarn
immer noch im Fred Perry-Shirt herum? Was ist der Unterschied zwischen Mode und Stil? Und wenn es ihn gibt, welche Bedeutung hat er heute? In welchem Verwandtschafts-
verhältnis steht der Mod zu Typen wie dem Flaneur und dem Dandy? Und was ist eigentlich aus den Modettes geworden?
Fragen und Antworten mit Armin Chodzinski.
Starring:
Wilson Pickett
, Ja König Ja, The Cross Section,
The Jam
, Lovin Spoonful, Booker T. & The MG´s,
Petula
Clark,
Peaches
, The High Numbers...
Weitere Ausgaben von Was ist Musik
Playlist
1.
Wilson Pickett / Funky Broadway
Funky Broadway / Atlantic

…

2.
Martha Reeves & The Vandellas / Dancing In The Street
Motown Story / Motown

…

3.
The Beatles / We Can Work It Out
We Can Work It Out / EMI

…

4.
The High Numbers / Zoot Suit
Quadrophenia / Polydor

…

5.
The Jam / Art School
Wasteland / Polydor

…

6.
The Who / I can´t explain
I can´t explain / Polydor

…

7.
The Kinks / Dedicated Follower Of Fashion
The Ultimate Collection / Pye

…

8.
The Style Council / Mick´s Up
Introducing / Polydor

…

9.
Booker T. & The MG´s / Green Onions
Green Onions / Stax

…

10.
The Cross Section / Hi Heel Sneakers
Quadrophenia / Polydor

…

11.
Lounge Lizards / Incident On South Street
Lounge Lizards / EG

…

12.
Sagat / Fuk Dat A Cappella
Fuk Dat / EMI

…

…

Stunde 2:

…

1.
The Who / I Am The Sea / The Real Me
Quadrophenia / Polydor

…

2.
The Risk / Jobs For The Boys
The Phase III Mod Bands / Unicorn

…

3.
Sex Pistols / Anarchy In The UK
Never Mind The Bollocks / EMI

…

4.
The Jam / In The City
Wasteland / Polydor

…

5.
The Housemartins / Flag Day
London 0 Hull 4 / EMI

…

6.
The Style Council / Walls Come Tumblin Down
Walls Come Tumblin Down / Polydor

…

7.
Superpunk / Das waren Mods
Das waren Mods / Tapete

…

8.
The Who / My Generation
Quadrophenia / Polydor

…

…

…

Stunde 3:

…

1.
Stevie Wonder / We Can Work It Out
Motown meets The Beatles / Motown

…

2.
Blur / Parklife (Feat. Phil Daniels)
Parklife / EMI

…

3.
Mo-Dettes / White Mice
White Mice / Rough Trade

…

4.
Nancy Sinatra / The City Never Sleeps At Night
Greatest Hits / RCA

…

5.
Petula Clark / Downtown
Kaleidoskop – Ihre größten Hits / Sanctuary

…

6.
Peaches / Downtown
Downtown / XL

…

7.
Dominatrix / The City Never Sleeps At Night
New York Noise Vol 3 / Soul Jazz

…

8.
Grace Jones / Nightclubbing
Nightclubbing / Island

…

9.
Nicolette / I Am Where The Party´s At (Bug Remix)
I Am Where The Party´s At / Early

…

10.
Lovin´ Spoonful / Summer In The City
Summer In The City / K-Point Gold

…

11.
Ja König Ja / Die Stadt im Sommer
Ja König Ja / Moll

…

12.
Bob Marley & The Wailers / Concrete Jungle
Songs Of Freedom / Island

…

13.
The Specials / Concrete Jungle
Specials / Two Tone

…

14.
Grandmaster Flash & The Furious Five / The Message
The Message / Sugarhill

…