Was ist Musik
Von der KFZ-Technik zum Techno - Kontinuität und Bruch in Detroit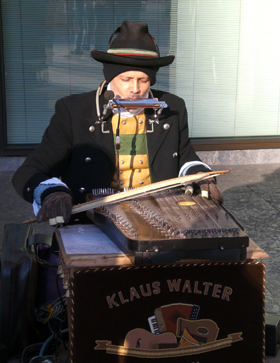 Detroit
Fließbandmaschinen, Maschinengewehre, Bandmaschinen, Sexmaschinen, Wunschmaschinen. Der Sound der Motorenstadt im Wandel der Zeiten. Kontinuität oder Bruch? Kontinuität und Bruch.
Der ehemalige Fabrikarbeiter Berry Gordy konzipiert seine Firma Motown nach dem Vorbild der Detroiter Autofabriken. In den Sechzigern produziert er die Hits wie am Fließband, Motown gilt als Erfolgsmodell des "Black Capitalism".
"An Ford interessieren mich nur die Roboter", behauptet Juan Atkins in den späten Achtzigern. Mit Derrick May und Kevin Saunderson prägt der Techno-Pionier den neuen "Sound of the City" von Detroit.
2011 covern die Dirtbombs Techno-Klassiker im Rockformat und lassen sich von Omar S. remixen. Der hat ein Album namens "Detroit". Auf dem Cover steht: You
can
not copy Omar S-Style. You can only copy a song that has already been produced by Omar S.
Nimm' das, KT!
Weitere Ausgaben von Was ist Musik
Playlist
1.
The Vision / Detroit: One Circle
Detroit / Metroplex

…

2.
Theo Parrish / Echoes In The Dark
Echoes In The Dark / Hdatl Muzik

…

3.
Barrett Strong / Money
Motown Gold / Motown

…

4.
Theo Parrish / Galactic Ancestors
Sound Sculptures Volume 1 / Sound Signature

…

5.
Eddie Fowlkes / Macro
Detroit Techno Soul / Tresor

…

6.
Mc 5 / Ramblin'Rose
Kick Out The Jams / Elektra

…

7.
Moody / Detriot
Detriot 67 / Mahogani

…

8.
Galaxy 2 Galaxy / Deep Space 9
Galaxy 2 Galaxy / Underground Resistance

…

9.
Underground Resistance / Swamp Thing
Swamp Thing / Underground Resistance

…

10.
Tony Allen / Kilode (Carl Craig Remix)
Kilode / Honest Jons

…

11.
The Congos / Congo Man (Carl Craig Remix)
Congo Man / Honest Jons

…

12.
Kraftwerk / The Robots
The Man Machine / Mojo

…

13.
Funkadelic / The Cosmic Slop
The Original Eight Mile Westbound Records 40th Aniversary / Westbound Records

…

14.
Aretha Franklin / Rock Steady
The Kings Of Techno / Bbe

…

15.
Kano / It's A War
The Kings Of Techno / BBE

…

16.
Matthew Dear / Soil To Seed
Black City / Ghostly International

…

17.
The Dirtbombs / Charivari
Charivari / In The Red

…

17.
Number Of Names / Charivari
Charivari / Sony

…

18.
The Normal / Warm Leatherette
Warm Leatherette / Mute

…

19.
The Dirtbombs / Charivari (Omar S. Remix)
Charivari / In The Red

…

20.
Omar S. / Oasis Twenty Five
Collaborating Omar S. Shadow Ray / Oasis

…

21.
Yesterdays New Quintet / Too High
Stevie / Stones Throw

…

21.
Detroit Experiment / Too High
Detroit Experiment / Ropeadope

…