Was ist Musik Mono No Aware, Man vs Sofa, Snakes vs Rats & andere Rätsel

(26.03.2017)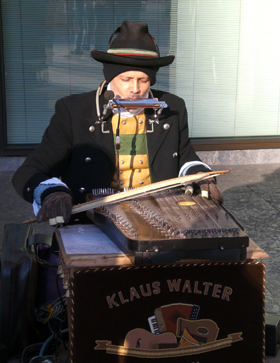 Ausgabe vom 26.03.2017: Mono No Aware, Man vs Sofa, Snakes vs Rats & andere Rätsel
Hören
Mono No Aware ist die erste Compilation auf dem PAN-Label. PAN sagt:
"Mono no aware", 'the pathos of things', also translates as "an empathy toward things", or "a sensitivity to ephemera". A term for the awareness of impermanence, or the transience of things. A meditation on mortality and life's transience, ephemerality heightens the appreciation of beauty and sensitivity to their passing. In investigating the passing of time, the boundaries between memory and hallucination become blurred; between fiction and reality. The movement of time transforms into an eternal present." (??)
Der Mono No Aware-Track mit dem interessantesten Titel kommt von TCF und heißt: C6 81 56 28 09 34 31 D2 F9 9C D6 BD 92 ED FC 6F 6C A9 D4 88 95 8C 53 B4 55 DF 38 C4 AB E7 72 13.
Weitere Rätselmusik kommt von Bug vs
Earth
, Sherwood & Pinch, Jlin…
Weitere Ausgaben von Was ist Musik
Playlist
1.
The Bug Vs Earth / City Of Fallen Agels
Concrete Desert / Ninjatune
2.
The Bug Vs Earth / Snakes Vs Rats
Concrete Desert / Ninjatune
3.
Sherwood & Pinch / Roll Call
Man Vs Sofa / Planet Mu
4.
Sherwood & Pinch / Midnight Mindset
Man Vs Sofa / Planet Mu
5.
AYYA / Second Mistake
Mono No Aware / Pan
6.
Jeff Witscher / Ok, American Medium
Mono No Aware / Pan
7.
TCF / C6 81 56 28 09 34 31 D2 F9 9C D6 BD 92 ED FC 6F 6C A9 D4 88 95 8C 53 B4 55 DF 38 C4 AB E7 72 13
Mono No Aware / Pan
8.
Jlin / Kyanite
Black Origami / Planet Mu Records
9.
Jlin / Carbon 7
Black Origami / Planet Mu Records
10.
Kreidler / Kannibal
European Song / Bureau B
11.
Kreidler / Boots
European Song / Bureau B