Was ist Musik
Tanzen im Rauch zu argwöhnischem Rhythmus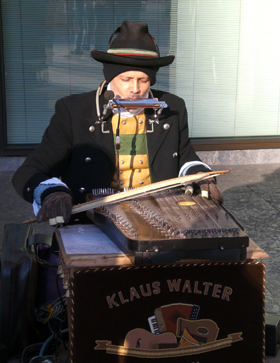 Ausgabe vom 16.04.2017: Tanzen im Rauch zu argwöhnischem Rhythmus
Hören
Let the musicians do the talking.
"'Dancing In The Smoke' is concerned with that moment in the club, in the side room which is less habituated where the music is more diffused from the main club, smoked out and disorientating. Already you get some sense of the piece, all angular rhythms, woozy synth pads and disembodied vocal refrains. The DJ has locked on a groove and you're there in your own space pulsing with the music. As the different spaces start to merge and turn with the effects of your prescription for the night, that alien cacophony of lasers and tone trip the buzz for a flight into that kind of euphoria that only spacing to the rhythm of the metropolis
can
bring", sagt Darren Jordan Cunningham alias Actress über seinen neuen Track "Dancing In The Smoke".
"File under: when i fell in love with the bassdrum", sagt Stefan Schwander alias Harmonious Thelonious über seinen neuen Track "Argwöhnischer Rhythm".
Und: R.I.P. Mika Vainio.
Weitere Ausgaben von Was ist Musik
Playlist
1.
Actress / X22RME
AZD / Ninjatune

…

2.
Actress / Dancing In The Smoke
AZD / Ninjatune

…

3.
Harmonious Thelonious / Argwöhnischer Rhythm
Argwöhnischer Rhythm / Italic

…

4.
Pan Sonic / Askel
A / Mute

…

5.
VVV (Pan Sonic / Alan Vega) / Red Lights Down
Endless / Mute

…

6.
Reboot / Are You Losing My Mind
Losing My Mind / Get Physical Music

…

7.
Reboot / Are You Losing My Mind (Ricardo Villalobos Hauswiedermischung)
Losing My Mind / Get Physical Music

…

8.
Move D / Gli Ragazzi Di Baia Puolo
Air Texture Volume Five / Air Texture

…