Was ist Musik
Cruisin' & groovin', einst & jetzt. Raphael Saadiq und andere Soulstilisten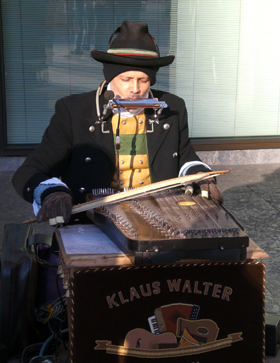 Ausgabe vom 09.09.2019: Cruisin' & groovin', einst & jetzt. Raphael Saadiq und andere Soulstilisten
Hören
D'Angelo
, TLC, En Vogue,
Kelis
, Mary J. Blige, Ledisi, Whitney Houston,
Solange
Knowles, John Legend … das ist nur ein kleiner Auszug aus der Liste der KünstlerInnen, mit denen Raphael Saadiq gearbeitet hat. Mit Tony! Toni! Toné! und Lucy Pearl hat er ein paar hinreißende Modern-Soul-Platten gemacht; sagen wir geschichtsbewußte Musik, um den naheliegenden R-Vorwurf zu umgehen (nein, ist nicht bloß Retro).
Greg Tate sagt: "As a solo artist, Saadiq has long been a master without a masterpiece for consensus to point to. "Jimmy Lee" could change that through sonic ambition alone." "Jimmy Lee" ist das neue Album von Raphael Saadiq, heute im Masterpiece-Test. Dazu geistesverwandte Cruiser & Groover.
Weitere Ausgaben von Was ist Musik
Playlist
1.
Raphael Saadiq / Something Keeps Calling Me
Jimmy Lee / Columbia
2.
Raphael Saadiq / The World Is Drunk
Jimmy Lee / Columbia
3.
Raphael Saadiq / Rearview
Jimmy Lee / Columbia
4.
Tony! Toni! Toné! / Thinking Of You
House Of Music / Mercury
5
Lucy Pearl / Don´t Mess With My Man
Don´t Mess With My Man / Virgin
6.
Raphael Saadiq / Belongs To God
Jimmy Lee / Columbia
7.
Solange / Cranes In The Sky
A Seat At The Table / Sony
8.
Raphael Saadiq / Riker´s Island
Jimmy Lee / Columbia
9.
Raphael Saadiq / Riker´s Island Redux
Jimmy Lee / Columbia
10.
Raphael Saadiq / It's A Shame
It's A Shame / Columbia
11.
Stevie Wonder / You've Got It Bad Girl
Talking Book / Motown
12.
DJ Spinn & DJ Rashad / Wevie Stonder
Wevie Stonder / Teklife
13.
Durand Jones & The Indications / Cruisin' To The Park
American Love Call / Dead Souls
14.
Smokey Robinson / Cruising
Cruising / Motown