Was ist Musik
What´s so funny about Afrika?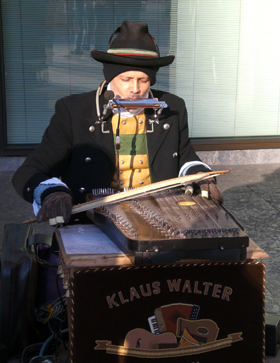 Ausgabe vom 21.10.2019: What´s so funny about Afrika?
Hören
Afriqua – so nennt sich der in Berlin lebende Produzent Adam Longman Parker, der jüdische und afroamerikanischen Vorfahren hat. Afrodeutsche – so nennt sich ein DJ/Producer aus Manchester, den das Dummymag auf die Liste der "15 exciting acts 2019" gesetzt hat. Als Inspiration gibt Afrodeutsche Underground Resistance's "Afrogermanic" an.
"Recognise Me (I'm An African)" erklärt der britische Rapper Rodney P aka The Riddim Killa auf seiner neuen Single. "Afrotropism" ist der Titel des neuen Albums von The Kutimangoes, einer sogenannten Afro-Jazz-Band aus Kopenhagen. Der "African Hustle" ist einer der Höhepunkte des soeben wiederveröffentlichten Albums mit dem schönen Titel "Disco Soccer", das tatsächlich aus Afrika kommt. Es stammt von Alhaji Sidiku Buari, "ghanaian sportsman turned musician".
What´s so funny about Afrika? Um es mit
Sly & The Family Stone
zu sagen: "Thank you for talking to me, Africa." Oder: "Africa talks to you 'The Asphalt
Jungle
'"
Weitere Ausgaben von Was ist Musik
Playlist
1.
Afrodeutsche / You Heard Me The First Time
You Heard Me The First Time / Youtube
2.
Afriqua / Space Dookie
Colored / R&S/!K7/Indigo
3.
Afriqua / Dope
Colored / R&S/!K7/Indigo
4.
Afriqua / Shout
Colored / R&S/!K7/Indigo
5
Rodney P / Recognise Me (I'm An African)
Recognise Me (I'm An African) / Tru Thoughts
6.
The Kutimangoes / Sand To Soil
Afrotropism / Tramp
7.
Alhaji Sidiku Buari / African Hustle
Disco Soccer / BBE
8.
Lumingu Puati (Zorro) / Dadavi Pitie
Mosese / Tabansi
9.
Sly & The Family Stone / Africa Talks To You "The Asphalt Jungle"
There's A Riot Goin On / Epic