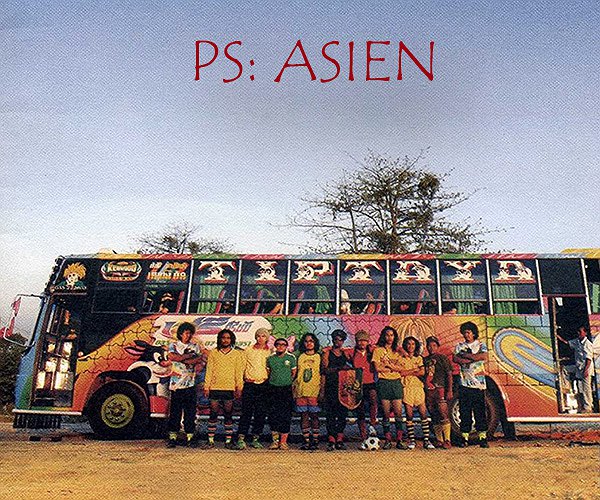 Acht Sendungen lang haben wir die Reggae-Szene asiatischer Länder erkundet - klar dass bei der Menge an lokalen Künstler*innen und der musikalischen Vielfalt vor Ort immer mal ein Track keinen Platz fand.
Die heutige Ausgabe von Forward The Bass sammelt diese "übriggebliebenen" Songs ein und präsentiert sie in einem "PS: Asien"-Special: Neben Rankin Taxi, Yuuri Bamboo, Oneder, Tony The Weed & Big Head (Medical Tempo) aus Japan hört ihr Moi (Vietnam), Kuerdas (Philippinen), I Kong und JahWahZoo (China), Ras Muhamad und Toké (Indonesien), Delhi Sultanat (Indien), Sasi The Don (Malaysia), Masia One (Singapur) und Jonathan & Calvin sowie die Kai-Jo Brothers (siehe Titelbild) aus Thailand.

Noch internationaler wird diese unterhaltsame Stunde mit Kollaborationen von Sara Lugo (Deutschland), Maymun (Frankreich), Negritage (Argentinien) und Zap Pow (Jamaika).
Weitere Ausgaben von Forward The Bass
Playlist
1.
Masia One / Singapura Feat. Iratio
Singapura / Masia One

…

2.
Sasi The Don / Yardy Gal
Sasi The Don / Sony Bmg

…

3.
Maymun & Rankin Taxi / Tokyo A Gogo
Kung Fu / Maymun

…

4.
Kai-Jo Brothers / Bird
Reggae Passion / Here Co

…

5.
Jonathan & Calvin / Big Up!
Single / Jonathan & Calvin

…

6.
Jonathan & Calvin / Let Mi Tell U
Born To Be Soundsystem Album 1.1 / Jonathan & Calvin

…

7.
Delhi Sultanat Meets Zap Pow / This Is Reggae Music
Single / Bass Foundation Roots

…

8.
Sara Lugo / Learn To Grow Feat. Ras Muhamad
Hit Me With Music / Oneness Records

…

9.
Toké / The Sun Has Died
The Art Of Letting Go / Munggu Tribe Records

…

10.
I Kong Meets Jahwahzoo / Oh Chengdu
Zoo To The Roots / Beijing Caotai Music Culture

…

11.
Kuerdas / Excuses
Bugsay Ta Bay / DK Records

…

12.
Moi / Chuyen Hoi Khuya
Single / Moi

…

13.
Negritage / Soul Stepper Feat. Yuuri Bamboo
Greetings From Planet Dub / Dubophonic Records

…

14.
Tony The Weed & Big Head / Chill Walkin'
Fly Away 81 / Medical Tempo

…

15.
Tony The Weed & Big Head / Aa Konomama Feat. Oneder
Fly Away 81 / Medical Tempo

…