Sunday Service
John Andrews & The Yawns - Bit By The Fang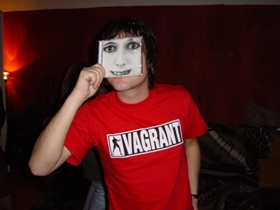 Hinter Maribou State stecken die beiden Engländer Chris Davids und Liam Ivory. Auf ihrem Debütalbum "Portraits" gibt es warme elektronische Sounds zu hören, die von Gastauftritten hinter dem Mikrofon veredelt werden.

Django Django haben auf ihrem neusten Werk ein wenig an Enthusiasmus verloren. Trotzdem klingen die Songs auf "Born Under Saturn" erneut sehr nach The Beta Band, mit der es familiäre Verbindungen gibt.

John Andrews spielt ansonsten bei den Indie Bands Woods und Quilt. Mit "Bit By The Fang" erscheint sein erstes Soloalbum, auf dem es sehr ruhig und LoFi-esque aber auch leicht entrückt zugeht.
Weitere Ausgaben von Sunday Service
Playlist
1.
Lapalux / Puzzle
Lustmore / Brainfeeder

…

2.
Andreya Triana / Keep Running
Giants / Counter

…

3.
Romare / Ray's Foot
Projections / Ninja Tune

…

4.
C Duncan / Ocean Liner
Here To There 7" / FatCat

…

5.
Speedy Ortiz / Raising The Skate
Foil Deer / Carpark

…

6.
Waxahatchee / Air
Ivy Tripp / Wichita

…

7.
Annabel (Lee) / I Will Lead Us
By The Sea And Other Solitary Places / Ninja Tune

…

8.
Tenors Of Kalma / The Hymn To The Sun God
Electric Willow / Enja

…

9.
Tenors Of Kalma / Go-Go-Go-Go
Electric Willow / Enja

…

10.
Vetiver / Loose Ends
Complete Strangers / Easy Sound

…

11.
Emily Barker / Little Deaths
The Toerag Sessions / India

…

12.
Barna Howard / Lend Me A Moment
Quite A Feelin' / Loose Music

…

13.
Black Yaya / Save Them Little Children
Black Yaya / City Slang

…

Stunde 2:
1.
George FitzGerald / Knife To The Heart
Fading Love / Double Six

…

2.
Bob Moses / Hands To Hold (Acoustic)
All In All / Domino

…

3.
The Very Best / Guju Guju
Makes A King / Moshi Moshi

…

4.
Django Django / Break The Glass
Born Under Saturn / Because

…

5.
Django Django / The Life We Know
Born Under Saturn / Because

…

6.
Maribou State / The Clown (Feat. Pedestrian)
Portraits / Counter

…

7.
Maribou State / Say More (Feat. Jono McLeery)
Portraits / Counter

…

8.
John Andrews & The Yawns / Don't Spook The Horses
Bit By The Fang / Woodsist

…

9.
John Andrews & The Yawns / Peace Of Mind
Bit By The Fang / Woodsist

…

10.
John Andrews & The Yawns / Angel
Bit By The Fang / Woodsist

…

11.
Modestep / Rainbow (Feat. The Partysquad)
London Road / Max

…

12.
Eilen Jewell / Rio Grande
Sundown Over Ghost Town / Signature Sound

…

13.
Bernard + Edith / Crocodile
Jem / Bella Union

…

14.
Rangleklods / Schoolgirls
Straitjacket / Tambourhinoceros

…