80Prozent
… And The No Wave Of Gute Laune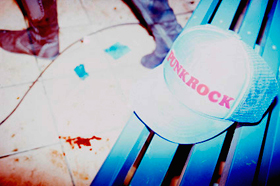 Ausgabe vom 21.04.2020: … And The No Wave Of Gute Laune
Hören
Torsten: "Du mit deinem minimalistischen Gestokel immer!"
Timo: "Und du mit deinem gut gelaunten Classic Rock!"

So kann man sich die Gespräche in der 80Prozent-Redaktion vorstellen. Muss man aber nicht, denn letztlich geht es bei Punk doch einfach darum, nicht wie die Toten Hosen zu klingen. Diese nicht sehr hohe Latte überspringen The Beths, Hank Wood And The Hammerheads, Slag Queen, Dispo, XV, Muro/Orden Mundial und False Brother mit Leichtigkeit – so oder so.
Weitere Ausgaben von 80Prozent
Playlist
1.
The Beths / Dying To Believe
Jump Rope Gazers / Carpark

…

2.
Vexx / Sleeping In The Attic
Give And Take (Single) / Katorga Works

…

3.
M.A.Z.E. / Surveillance Robot
Tour Tape 2020 / M.A.Z.E.

…

4.
Collate / Symtom
Symtomatic / Collate

…

5.
Dispo / Nie Wieder Dumm
Rauchen macht Heroinabhängig / Phantom

…

6.
Hank Wood And The Hammerheads / Tomorrow
Use Me (Single) / Toxic State

…

7.
Color TV / Anybody's Girl
VA Typical Girls 5 / Emotional Response

…

8.
Patsy's Rats / Looking At Your Phone
VA Typical Girls 5 / Emotional Response

…

9.
Slag Queen / Waterfall
VA Typical Girls 5 / Emotional Response

…

10.
Mr. Wrong / Overstimulation / White Male Teacher
VA Typical Girls 5 / Emotional Response

…

11.
Vivienne Styg / Rose Of Texas
Rose Of Texas / Tall Texan

…

12.
XV / Nervous Breakdown
XV / Life Like

…

13.
Bob / Thomas Edison
Bob / Rerun

…

14.
Ixna / Black Shirts
Knotpop / Concentric Circles

…

15.
Muro / Orden Mundial / La Ciudad Es Hostil / Heridas
Sonido De La Negacion / La Vide Es Un Mus

…

16.
Brigada / Te Cuesta Respira
Demo 1 & 2 / Flexidiscos

…

17.
False Brother / Children Of Light
Uncanny Valley / Iron Lung

…

18.
Billy Nomates / No
No (Single) / Invada

…