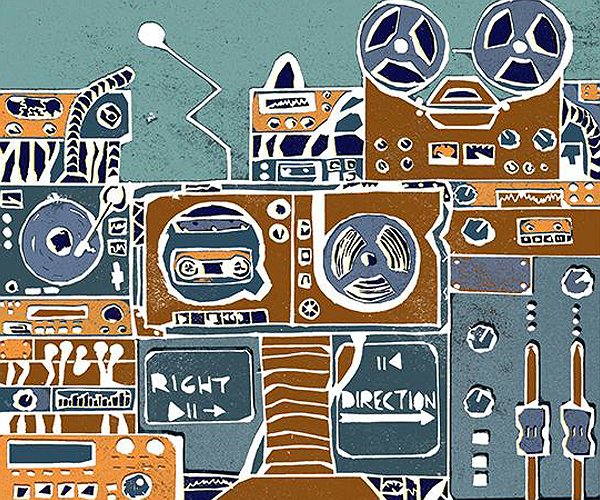 Am 20. Mai 2022 erscheint die vielseitige EP "Right Direction" von Ikadub aus Frankreich bei BAT Records. Tief verwurzelt in alten Traditionen, wie Rub-A-Dub, aber mit etlichen frischen Zutaten, haben sie eine sehr kurzweilige Veröffentlichung eingespielt. Zwei Tunes sind in der heutigen Sendung mit dabei.

Kürzlich veröffentlichte La Gorda Dubs aus Berlin den Track "Simple Way" zusammen mit einem sehr schönen Video. Hinter La Gorda Dubs steckt Alex Brechow, Gründungsmitglied von Illbilly Hitec. Für "Simple Way" hat er sich den Sänger und Aktivisten Lengualerta aus Mexiko eingeladen.

Zudem gibt es Klänge von Maki Roots, Dubjestic, Vibronics, Total Hip Replacement, Dub Spencer & Trance Hill, The Bakesys, Noiseshaper, New Blade Runners Of Dub und der Stand High Patrol zu hören.
Weitere Ausgaben von Forward The Bass
Playlist
1.
Maki Roots / 90 Percent
Above Extinction & Recover / Maki Roots

…

2.
Total Hip Replacement / Guilt feat. Rocky Dawuni
Anyankofo / Total Hip Records

…

3.
Ikadub / Right Direction feat. I Fi
Right Direction / BAT Records

…

4.
Ikadub / Wicked Ago Feel feat. Junior Roy
Right Direction / BAT Records

…

5.
Dubjestic / Real Eyes, Realize, Real Lies feat. Vido Jelashe
Some Day EP / Dubjestic

…

6.
Dubjestic / Take Me Away feat. Conkahgood
Some Day EP / Dubjestic

…

7.
New Blade Runners Of Dub / In My Space feat. Cedric Myton
New Blade Runners Of Dub / Echo Beach

…

8.
Vibronics / Las Olas feat. Fer Reyes
Stepping Into Mexico / Scoops Records

…

9.
Vibronics / La Tormenta feat. Lengualerta & Last Geronimo
Stepping Into Mexico / Scoops Records

…

10.
La Gorda Dubs / Simple Way feat. Lengualerta
Simple Way (Single) / La Gorda Records

…

11.
The Bakesys / You Are Leaving The American Sector
Sentences I'd Like To Hear The End Of / Do The Dog Music

…

12.
Dub Spencer & Trance Hill / Fugu
Imago Cells / Echo Beach

…

13.
Stand High Patrol / Purple Sky
Purple Sky (Single) / Stand High Records

…

14.
Noiseshaper / Prelaunch Sequence
King Size Dub Special / Echo Beach

…