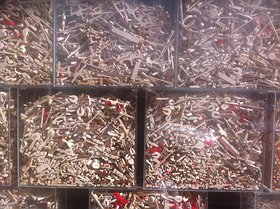 Ausgabe vom 20.04.2015: Things
Hören
Things we did last summer, things we like to do, ain't nothing like the real thing, things that dreams are made of – these are a few of my favourite things … äh … songs. Ich mag das englische Wort "things".

Klingt irgendwie freundlicher in meinen Ohren als "Dinge". Oder Dinger. Apropos, was sind das bloß für Dinger da auf dem Foto? Habt Ihr es erkannt? Dann schreibt mir doch einfach eine Mail an hellomellowfellow@byte.fm und wünscht Euch den Song, den Ihr schon immer mal bei Hello Mellow Fellow hören wolltet!

Ist kein großes Ding, oder?

Weitere Ausgaben von Hello Mellow Fellow
Playlist
1.
Graham Mushnik / The Cat – The Beast
A Distant Wildlife / Catapulte Records
2.
The Last Shadow Puppets / Time Has Come Again
The Age Of The Understatement / Domino
3.
Mocky / Les Introvertes
Living Time (Moxtape Vol. II) / Mocky Recordings
4.
Marden Hill / South From Paris
Cadaquéz / Él Records
5.
Rod Mckuen / Love's Been Good To Me
A Man Alone: The Words And Music Of Rod Mckuen / Reprise Records
6.
Lee Hazlewood / Look At That Woman
Trouble Is A Lonesome Town / Smells Like Records
7.
Daymè Arocena / Madres
N/A / Brownswood Records
8.
Yo La Tengo / How To Make A Baby Elephant Float
Summer Sun / Matador Records
9.
Is Tropical / Say
Black Anything / Axis Mundi Records
10.
The Jesus And Mary Chain / Psychocandy
Some Candy Talking E.P. / Blanco Y Negro / WEA
11.
Jacco Gardner / The One Eyed King (Live Bei Bytefm)
N/A / N/A
12.
Nick Lowe & Dave Edmunds / Crying In The Rain
Nick Lowe & Dave Edmunds Sing The Everely Brothers / F-Beat Records
13.
Mo Kolours / Sumerian Mother
How I (Rhythm Love Affair) / One-Handed Music
14.
Hailu Mergia And The Walias / Tche Belew
Tche Belew / Awesome Tapes From Africa
15.
Young Hare / Nylon Nights
Gaps / Altin Village & Mine
16.
Felt / She Lives By The Castle
Poem Of The River / Creation Records
Stunde 2 :
1.
SSION / My Love Grows In The Dark
Bent / Dovecote Records
2.
Carole King / Will You Still Love Me Tomorrow
Tapestry / Epic Records
3.
Nicole Willis & The Soul Investigators / Where Are You Now
Happiness In Every Style / Timmion Records
4.
Mocky / Ellipse (Read My) Pt 2
Living Time (Moxtape Vol. II) / Mocky Recordings
5.
John Stewart and Buffy Ford / Holly On My Mind
Signals Through The Glass / Capitol Records
6.
Cowboy / Livin' In The Country
VA – Truckers, Kickers, Cowboy Angels-The Blissed Out Birth Of Country Rock-Vol. 3-1970 / Bear Family Records
7.
Ferlin Husky / Living In A Trance
Walkin' And A Hummin' / Stetson Records / Capitol Records
8.
Eric Andersen / Just A Country Dream
VA – Truckers, Kickers, Cowboy Angels-The Blissed Out Birth Of Country Rock-Vol. 3-1970 / Bear Family Records
9.
Gemma Ray / Waving At Mirrors
7" / Bronze Rat
10.
The Lovers Key / It's Winter Again / n/a
11.
David Wiffen / Since I Fell For You
David Wiffen / Akarma / Fantasy
12.
Nick Cave / Disco 2000
Bad Cover Version / Island Records
13.
Ken Lauber / Far I Will Travel
Contemplation (View) / Abraxas / KLI Music
14.
Thomas Fritsch / Good Night
Rendezvous Mit Thomas / EMI / Columbia
15.
Der Nussigmilde / In Zukunft Dann
Nebenwirkung / Guavemusik