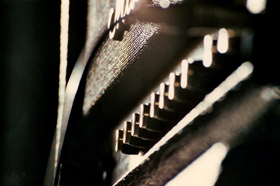 Ausgabe vom 28.05.2014: Bradley, Whitefield Bros, etc.
Hören
Aus Anlass verschiedener aktueller Konzerte und Tourneen blickt Julian Bohne ein weiteres Mal auf das New Yorker Daptone-Label und dessen Umfeld.
Künstler in der Sendung sind unter anderem Charles Bradley und die Menahan Street Band sowie einige Bands und Projekte der Münchner Brüder Jan und Max Weissenfeldt, u. a. Poets Of Rhythm, Whitefield Brothers und
Karl Hector & The Malcouns
.
Weitere Ausgaben von In Through The Out Door
Playlist
1.
Charles Bradley / Confusion
Victim Of Love / Daptone

…

2.
Charles Bradley (Feat. Menahan Street Band) / The World Is Going Up In Flames
Various Artists – Daptone Gold / Daptone

…

3.
Menahan Street Band / Three Faces
The Crossing / Daptone

…

4.
James Brown / Give It Up Or Turn It A Loose
Love, Power, Peace: Live At The Olympia, Paris, 1971 / Polydor

…

5.
Charles Bradley & The Bullets / This Love Ain't Big Enough For The Two Of Us
Daptone 7 Inch Singles Collection Vol. 2 / Daptone

…

6.
Poets Of Rhythm / Strokin' The Grits
Practice What You Preach / Soulciety Records

…

7.
Karl Hector & The Malcouns / The Cave
Coomassi EP / Now Again Records

…

8.
Karl Hector & The Malcouns / Sahara Swing
Sahara Swing / Now Again Records

…

9.
Whitefield Brothers / Safari Strut
Earthology / Now Again Records

…

10.
Whitefield Brothers / Reverse (Feat. Percee P & MED)
Earthology / Now Again Records

…

11.
Sharon Jones & The Dap-Kings / You'll Be Lonely
Give The People What They Want / Daptone

…

12.
Dr. John / Getaway
Locked Down / Nonesuch

…

13.
Bombino / Amidinine
Nomad / Nonesuch

…

14.
Lee Fields & The Expressions / Eye To Eye
Emma Jean / Truth & Soul Records

…

15.
Lee Fields & The Expressions / Still Gets Me Down
Emma Jean / Truth & Soul Records

…