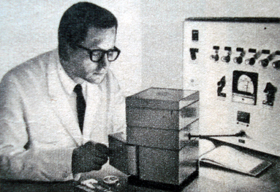 Ausgabe vom 18.05.2010:
Hören
Do It Yourself

Kaum war Punk ein Jahr alt, formierten sich Bands, denen es bei der neuen Musik nicht so sehr um die möglichst schnell abgespielten drei Akkorde ging, als vielmehr um das Erforschen der musikalischen Möglichkeiten mit ureigenen Mitteln.

Die später unter dem Label Do It Yourself zusammengefassten Gruppen wie Swell Maps, This Heat, Desperate Bicycles oder The Homosexuals produzierten in kleinen Auflagen Ureigenes, das oft mehr nach Ausläufern von Kraut als nach Punk klang.

Me Myself and Why stellt eine Stunde lang die meist prägnant kurzen Ergebnisse dieser musikalischen Experimente vor.

Mit Swell Maps, This Heat, Desperate Bicycles, The Homosexuals und L. Voag.
Weitere Ausgaben von Me Myself & Why
Playlist
1.
The Homosexuals / Total Drop
Astral Glamour / Morphius Records

…

2.
The Homosexuals / Hearts in Exile
Astral Glamour / Morphius Records

…

3.
The Homosexuals / Charlie Watts
Astral Glamour / Morphius Records

…

4.
The Homosexuals / Naming of Parts
Astral Glamour / Morphius Records

…

5.
The Homosexuals / Walk Before You Imitate
Astral Glamour / Morphius Records

…

6.
Desperate Bicycles / Sarcasm
Remorse Code / Refill Records

…

7.
Swell Maps / Blam
A Trip to Marineville / Rough Trade

…

8.
Swell Maps / Midget Submarine
A Trip to Marineville / Rough Trade

…

9.
The Homosexuals / Pamela
Astral Glamour / Morphius Records

…

10.
This Heat / Paper Hats
Deceit / Rough Trade

…

11.
This Heat / Horizontal Gold
This Heat / Rough Trade

…

12.
Desperate Bicycles / Grief is very Private
Grief is very Private / Refill Records

…

13.
L. Voag / Has Durability Been Sacrificed To Good Looks
The Way Out / Alcohol

…

14.
L. Voag / According to Freud
The Way Out / Alcohol

…

15.
L. Voag / The Way Out
The Way Out / Alcohol

…

16.
The Homosexuals / Funera
Astral Glamour / Morphius Records

…

17.
The Homosexuals / Jesus
Astral Glamour / Morphius Records

…