Me Myself & Why
Long Strange Trip mit Frank Witzel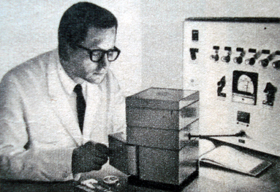 Ausgabe vom 03.04.2012: Long Strange Trip mit Frank Witzel
Hören
What a long strange trip it's been...

Oder ist er es noch? Eine Stunde lang vergessen wir mal alles Sorgen und tun so als sei die hippieske Illusion noch lebendig und die Zeit zumindest musikalisch unendlich dehnbar. Die Sendung am Dienstag ist so abwechslungsreich wie die Namen der Bands, die die Musik beisteuern. Und auch wenn die meisten aus der Vergangenheit kommen ist bestimmt genug Ungehörtes dabei.

Mit Thorinshield, Sleepy Hollow, Leon Thomas, The Peep Show, The Queen's Nectarine Machine, Zoo, Time und vielen anderen wie etwa Kenneth Patchen, Alan Ginsberg oder Percy Shelley.
Weitere Ausgaben von Me Myself & Why
Playlist
1.
Time / Introductory Lines
Before There Was / Normal

…

2.
Zoo / Get Some Beads
Presents Chocolate Moose / Radioactive

…

3.
Thorinshield / Prelude To A Postlude
Thorinshield / Fallout

…

4.
Rare Bird / Beautiful Scarlet
Rare Bird / Cherry Red

…

5.
Hans Kox / Maskentanz
Four Orchestral Suites / Emergo

…

6.
Michael Sheen / Three Sermons On Free Love
Great Romantic Poets / Naxos

…

7.
Andrew Bird / Give It Away
Break It Yourself / Universal

…

8.
Sleepy Hollow / Take Me Back
Sleepy Hollow / Soulfood

…

9.
One / Leon Thomas
Spirits Known And Unknown / RCA

…

10.
Ferrante & Teicher / Hair
Getting Together / United Artists

…

11.
5th Dimension / Orange Air
Magic Garden / Buddha

…

12.
Lenny Bruce / Psychopathia Sexualis
Beat Generation / Rhino

…

13.
Velvet Turner Group / Madonna Of The 7 Moons
Velvet Turner Group / Soulfood

…

14.
The Peep Show / Mazy
Mazy / Tenth Planet

…

15.
Kenneth Patchen / Do The Dead Know What Time It Is?
Reads His Poetry / Folkways

…

16.
Grateful Dead / Mind Left Body Jam
The Grateful Dead Movie / Warner

…

17.
Alan Ginsberg / Footnote To Howl
Howl And Other Poems / Rhino

…

18.
The Queen's Nectarine Machine / Mysterious Martha Garoo
The Mystical Powers / O-Music

…

19.
Traffic / 40 000 Headmen
Welcome To The Canteen / Island

…

20.
Jack Kerouac / On The Road
On The Road / Blackstone Audio

…