Antikörper
Half Japanese, Micah P. Hinson, The Memory Fades, Spinning Coin, Hunny Ryder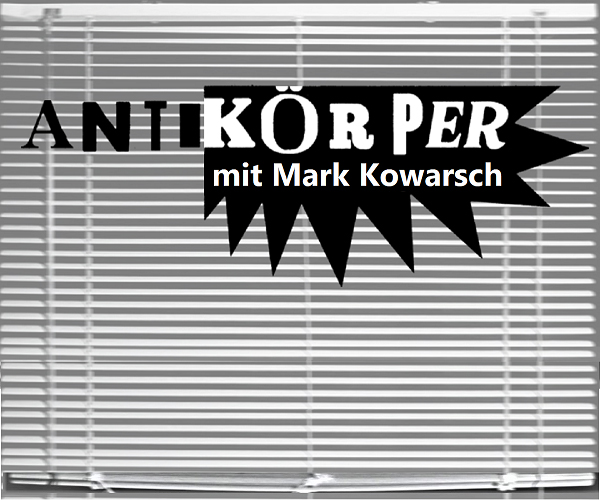 Ausgabe vom 23.08.2019: Half Japanese, Micah P. Hinson, The Memory Fades, Spinning Coin, Hunny Ryder
Hören
Für die heutige Antikörper-Sendung hat Moderator Mark Kowarsch fünf tolle Bands zu den Antikörper Sessions eingeladen:
Half Japanese
(USA), Micah P. Hinson (USA), The Memory Fades (UK), Spinning Coin (GBR), Hunny Ryder (UK).
Aus Austin, Texas USA kommen
Half Japanese
. Die Band wurde 1975 in Uniontown von den Brüdern Jad und David Fair gegründet und hat seitdem an die 20 Studioalben veröffentlicht. "Few of punk rock's founding fathers could have anticipated the extreme to which Half Japanese took the music's do-it-yourself ethos."
Micah P. Hinson
aus Memphis, Tennessee, USA hat nach seinem Debüt "Micah P. Hinson And The Gospel Of Progress" von 2004 auch schon über zehn Studioalben veröffentlicht.
Spinning Coin
kommen aus Glasgow, Schottland und sind übrigens der erste Domino Records Act, der eine Antikörper Session einspielt. Ihr Debüt "Permo" von 2017 war eine Offenbarung, vor zwei Wochen erschien ihre neue Single "Visions At The Stars".
The Memory Fades
aus Durham, UK ist das neue Projekt von Stephen Maughan (Kosmonaut, Denver, Bulldozer Crash), das gerade seine erste EP "She Loves The Birds" bei Sunday Records veröffentlicht hat.
Außerdem mit ihrer Antikörper Session dabei sind
Hunny Ryder
aus Oxfordshire, UK – das neue Projekt von Graham Lewis (The Fleas) und Martin Gibbins (Taste).
Alle Songs dieser fünf Antikörper Sessions sind unveröffentlicht und natürlich exklusiv für Antikörper.
Dazu gibt es in jeder Antikörper Sendung noch eine Menge brandneue Musik und natürlich Hits, Klassiker und Lieblingslieder.
Weitere Ausgaben von Antikörper
Playlist
1.
Wolf Mountains / Fuck You Beelzebub
Urban Dangerous / Treibender Teppich

…

2.
B Boys / Dudu
Dudu / Captured Tracks

…

3.
Mudhoney / Ensam I Natt
Morning In America / Sub Pop

…

4.
Wild Billy Childish & CTMF / It Hurts Me Still
Last Punk Standing / Damaged Goods

…

5.
Redd Kross / Punk II
Beyond The Door / Merge Records

…

6.
The Darts / My Way
I Like You But Not Like That / Alternative Tentacles

…

7.
J. Robbins / Soldier On
Un-Becoming / Dischord Records

…

8.
True Dreams / Reaching
No.1 / Lousy Moon Records

…

9.
Metz / Dirty Shirt
Automat / Sub Pop

…

10.
Mannequin Pussy / Drunk I
Patience / Epitaph Records

…

11.
Spinning Coin / Black Cat (Antikörper Session)
Antikörper Session / Exklusiv Für Antikörper

…

12.
Spinning Coin / Not A Dream (Antikörper Session)
Antikörper Session / Exklusiv Für Antikörper

…

13.
The Memory Fades / She Loves The Birds (Antikörper Session)
Antikörper Session / Exklusiv Für Antikörper

…

14.
The Memory Fades / Am I Losing You (Antikörper Session)
Antikörper Session / Exklusiv Für Antikörper

…

15.
Hunny Ryder / I Met Her On TV (Antikörper Session)
Antikörper Session / Exklusiv Für Antikörper

…

16.
Micah P. Hinson / Beneath The Rose (Antikörper Session)
Antikörper Session / Exklusiv Für Antikörper

…

17.
Micah P. Hinson / Watchers, Tell Us Of The Night (Antikörper Session)
Antikörper Session / Exklusiv Für Antikörper

…

18.
Half Japanese / Cherry Pie / Mule In The Corn (Antikörper Session)
Antikörper Session / Exklusiv Für Antikörper

…

19.
Half Japanese / Secret (Antikörper Session)
Antikörper Session / Exklusiv Für Antikörper

…

20.
Half Japanese / Sex At Your Parent's House (Antikörper Session)
Antikörper Session / Exklusiv Für Antikörper

…

21.
Off With Their Heads / Disappear
Be Good / Epitaph Records

…

22.
Egotronic / Gewalt
Ja Und Weiter Geht's Im Programm Compilation / Kunta Kinte / Sound Of Subterrania

…

23.
Richard Dawson / Jogging
2020 / Weird World

…