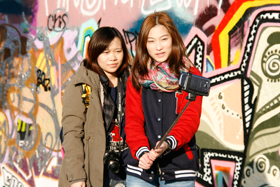 Ausgabe vom 03.01.2018: NOW und CTM
Hören
NOW und CTM – Back to Nature vs. Turmoil. Happy Birthday,
Nightmares On Wax
– zum 30. Bandjubiläum.
Am 26. Januar kommt das neue Album "Back To Nature". Kleine Vorschau. Und: "Turmoil" - Tumult - lautet das Motto des CTM-Festivals ab 26. Januar in Berlin. U.a. mit Errorsmith und Perera Elsewhere sowie Dengue, Dengue, Dengue! Locations: HAU Hebbel am Ufer, Berghain, YAAM, Festsaal Kreuzberg, SchwuZ, Club OST und Kunstquartier Bethanien.
Weitere Ausgaben von Bricolage Deluxe
Playlist
1.
Nightmares On Wax / Les Nuits (DJ Spinna Mix)
EP / Warp
2.
Nightmares On Wax / Back To Nature
EP / Warp
3.
Rhye / Count To Five
EP / Loma Vista / Caroline International
4.
Jonny Faith / Backbeat
Tru Thoughts 2017 / Tru Thoughts
5.
Sebo K / Paradigm Change
EP / Rekids
6.
Mount Kimbie / You Look Certain (I'm Not So Sure) (Kelly Lee Owens Rework)
EP You Look Certain (I'm Not So Sure) / Warp
7.
Rozzma / Tany Tany
Donya Fakka EP / Crammed
8.
Ryuichi Sakamoto & Alva Noto / The Revenant Theme (Alva Noto Remodel)
The Revenant (Original Motion Picture Soundtrack)
9.
Errorsmith / Retired Low-Level Internal Server
Superlative Fatique / PAN
10.
Perera Elsewhere / Somethings Up / Fof
11.
Dengue Dengue Dengue! / Simiolo (Sabbo RMX)
Dengue Dengue Dengue! Remixed / ZZK
12.
Röyksopp / Happy Up Here (Boyznoise Remix)
EP / Virgin