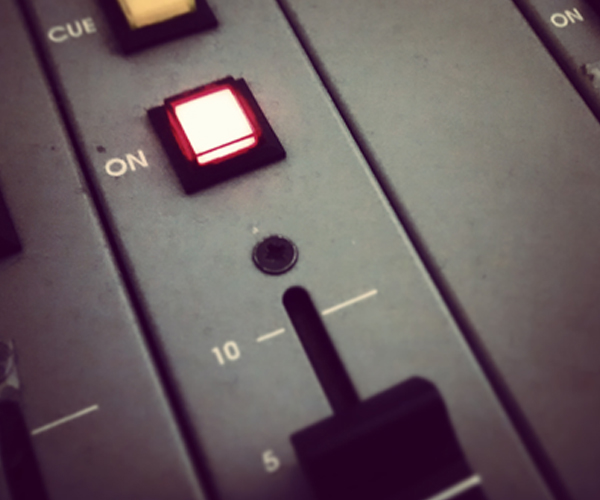 Heute unter anderem mit Musik von O.C. Smith. Der Musiker konnte 1968 mit den Songs "Little Green Apples" und "The Son Of Hickory Holler's Tramp" Charterfolge in den USA und in Großbritannien feiern. Heute vor 20 Jahren ist er gestorben.
Außerdem: Musik vom Album "Last Night On The Plane" von Letherette, das in wenigen Tagen fünf Jahre alt wird und vom Album "Follow The Voice" von
Kraków Loves Adana
, unserem ByteFM Album der Woche.
Weitere Ausgaben von ByteFM Magazin
Playlist
1.
Keep Shelly In Athens / Just Like In The Movies (feat. Vauxhall Underground)
Back To Reality (Single) / Keep Shelly In Athens

…

2.
The Go! Team / Pow
Pow (Single) / Memphis Industries

…

3.
The Labrats / Have Love Will Travel
Have Love Will Travel / Original Gravity

…

4.
Billy Nomates / No
No (Single) / Invade Records

…

5.
Zwanie Jonson / The Hook
We Like It / Fun In The Church

…

6.
Yrrre / Laufmaschen
Laufmaschen (Single) / Irrsinn Tonträger

…

7.
Dexter / Freitag (feat. Fatoni & Yrrre)
Yung Boomer / Prodbydexter

…

8.
Carla Thomas / B-A-B-Y
B-A-B-Y (Single) / Warner

…

9.
Beat! Beat! Beat! / We Are Waves
Lightmares / Richard Mohlmann Records

…

10.
Lewsberg / From Never To Once
In This House / Lewsberg/Cargo

…

11.
Idles / Crawl!
Crawler / Partisan Records

…

12.
Ada / Faith
Meine Zarten Pfoten / Pampa Records

…

13.
O.C. Smith / The Son Of Hickory Holler's Tramp
More Dirty Laundry: The Soul Of Black Country / Trikont

…

14.
O.C. Smith / Hey Jude
For Once In My Life / Columbia

…

15.
Berhana / Health Food
Year Of The Witch / Captured Tracks

…

16.
Umse / Iller Denn Je (Feat. Aphroe)
Hawaiianischer Schnee / Jakarta Records

…

Stunde 2:
1.
Mohammed Rafi / Jaan Pehechaan Ho
Ghost World (Original Motion Picture Soundtrack) / Shanachie

…

2.
Philip Lassiter / Poof
Live In Love / Delta Music Media

…

3.
Sophia Kennedy / I Can See You
I Can See You (Single) / City Slang

…

4.
Smino / I Deserve
I Deserve (Single) / Zero Fatigue

…

5.
Thundercat / Dragonball Durag (Remix) (Feat. Smino & Guapdad 4000)
Dragonball Durag (Remix) / Brainfeeder

…

6.
BadBadNotGood / In Your Eyes (feat. Charlotte Day Wilson)
IV / Innovative Leisure

…

7.
Monjola & Aby Coulibaly / Where U At
Where U At (Single) / Chamomile Records

…

8.
Curtis Harding / Where's The Love
If Words Were Flowers / Anti-

…

9.
Kraków Loves Adana / Young Again
Follow The Voice / Kraków Loves Adana

…

10.
Maya Jane Coles / Run To You (feat. Claudia Kane)
Night Creature / BMG

…

11.
Guided By Voices / Echos Myron
Bee Thousand / Scat

…

12.
Evan Wright / Just A Sign
Sound From Out The Window / Solitaire Recordings

…

13.
Busta Rhymes / As I Come Back
Genesis / Sony Music

…

14.
Moritz Krämer / Rhythmus
Rhythmus (Single) / Tapete Records

…

15.
Mary J. Blige / Family Affair
No More Drama / Geffen Records

…

Stunde 3:
1.
Busta Rhymes / There's Only One (Feat. Mary J. Blige)
Genesis / Sony Music

…

2.
Phools / Part Of You
Part Of You / Phools

…

3.
Poppy Ajudha / Weakness
Weakness (Single) / Poppy Ajudha

…

4.
Osees / If I Had My Way
Protean Threat / Castle Face

…

5.
Derya Yildirim & Grup Simsek / Nem Kaldi
Nem Kaldi (EP) / Les Disques Bongo Joe

…

6.
Boys World / All Me
All Me (Single) / KYN Entertainment

…

7.
Letherette / Rich & Dan
Last Night On The Planet / Ninja Tune

…

8.
Joel Culpepper / W.A.R
Sgt Culpepper / Pepper Records

…

9.
Letherette / Last Night On The Planet (Feat. Pyramid Vritra)
Last Night On The Planet / Ninja Tune

…

10.
David Nesselhauf / Outer Banks
Afrokraut / Légère Recordings

…

11.
Castillo / Prometheus
Prometheus (Single) / Bube Dame König Artist

…

12.
Wayne Snow / Nina
Figurine / Roche Musique

…

13.
Esther Phillips / Home Is Where The Hatred Is
Home Is Where The Hatred Is / 'Til My Back Ain't Got No Bone / Kudu

…

14.
Pöbel MC / Rollkragenschläger
Rollkragenschläger (Single) / Audiolith

…

15.
Courtney Barnett & Kurt Vile / Over Everything
Lotta Sea Lice / Marathon Artists

…