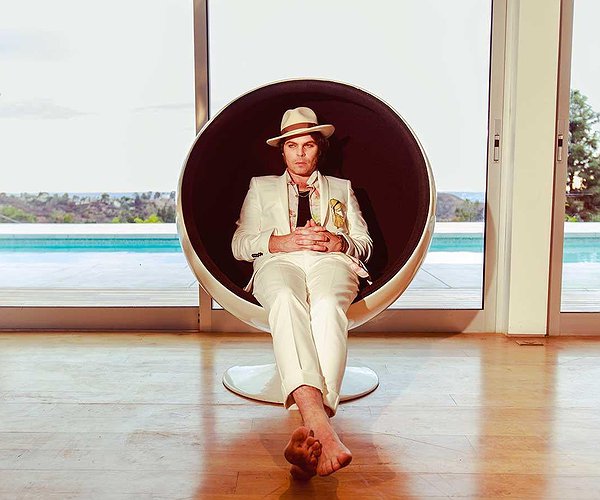 Mit seiner Band Supergrass war Gaz Coombes in den 90ern einer der Posterboys des Britpop; so schmücken nicht nur internationale Top-Ten-Platzierungen die Vita der Gruppe, sondern auch diverse Brit Awards.
Seit dem Ende der Band im Jahr 2010 wandert ihr Sänger und Songschreiber Coombes jedoch auf Solopfaden. Schrieb und produzierte er sein Solo-Debüt "Here Come The Bombs" (2012) noch im Alleingang, hat sich der Musiker für sein neuestes Album "Turn The Car Around" – sein nunmehr viertes – von einer kompletten Live-Band unterstützen lassen. Ein Indikator dafür, dass die Kompositionen von Gaz Coombes in den vergangenen Jahren deutlich an Komplexität und Eleganz dazugewonnen haben.
Gaz Coombes ist im März auf Tour, präsentiert von ByteFM:
06.03.23 München – Freiheitshalle
09.03.23 Düsseldorf – Zakk
10.03.23 Hamburg – Mojo Club
11.03.23 Berlin – Hole44
Vor seinem Konzert in Hamburg im Mojo Club ist Gaz Coombes zu Gast im ByteFM Magzin bei Marius Magaard.
Weitere Ausgaben von ByteFM Magazin
Playlist
1.
U.S. Girls / Only Daedalus
Bless This Mess / 4AD

…

2.
Supergrass / Alright
I Should Coco / Parlophone

…

3.
Wesley Joseph / Sugar Dive (feat. Dean)
Glow / Secretly Canadian

…

4.
Sparks / The Girl Is Crying In Her Latte
The Girl Is Crying In Her Latte (Single) / Universal

…

5.
Sevdaliza / Oh My God
Oh My God (Single) / Twisted Elegance

…

6.
Patrice / Good Vibrations
Super Album / Supow Music

…

7.
L.A. Salami / Desperate Times, Mediocre Measures
Desperate Times, Mediocre Measures (Single) / Sunday Best Recordings

…

8.
Pearl Jam / Jeremy
Ten / Epic

…

9.
Gránátèze / Liebeskoma
Thirsty Girl Must Drink / Copyright Control

…

10.
Lambchop / Little Black Boxes
Little Black Boxes (Single) / City Slang

…

11.
Laura Lee & The Jettes / Walk On The Wild Side
Walk On The Wild Side (Single) / Duchess Box Records

…

12.
Gloria de Oliviera, Dean Hurley / All Flowers In Thime
Oceans Of Time / Sacred Bones Records

…

13.
Jenny Hval / Year Of Love
Classic Objects / 4AD

…

14.
Slowthai / Ugly
UGLY / Method

…

15.
Gaz Coombes / Turn The Car Around
Turn The Car Around / Gaz Coombes

…

16.
Gaz Coombes / Sonny The Strong (Live bei ByteFM)
Turn The Car Around / Gaz Coombes

…

17.
Gaz Coombes / Long Live The Strange
Turn The Car Around / Gaz Coombes

…

18.
Channel Tres, Tyler, The Creator / Fuego
I Can't Go Outside / Art For Their God

…

19.
Girl Ray / Give Me Your Love (Radio Edit)
Give Me Your Love (Single) / Moshi Moshi Records

…

20.
Tortoise / TNT
TNT / Thrill Jockey

…

21.
Adi Oasis / Serena
Lotus Glow / Unity

…

22.
Magdalena Bay / Secrets (Your Fire)
Mercurial World (Deluxe) / Luminelle

…

23.
Dry Cleaning / Gary Ashby
Stumpwork / 4AD

…

24.
Timmy Thomas / Why Can't We Live Together
Why Can't We Live Together / TK Records

…

25.
Pizzicato Five / Happy Sad
Overdose / Readymade Records

…

26.
Sam Gendel / Didn't Cha Know
Cookup / Nonesuch Records

…

27.
Sam Gendel / Crazy In Love
Cookup / Nonesuch Records

…

28.
Benny Sings / It Will Come In Time
Santa Barbara / Stones Throw

…

29.
Sonic Youth / Incinerate
Rather Ripped / Geffen

…

30.
Mint Mind / Alcoholicity
Thoughtsicles / The Upper Room

…

31.
LL Cool J / I Need A Beat
I Need A Beat / Def Jam

…

32.
Jay-Z / 99 Problems
The Black Album / Roc A Fella, Def Jam

…

33.
Johnny Cash / God's Gonna Cut You Down
American V: A Hundred Highways / American

…

34.
Stella Sommer / In My Darkness
In My Darkness (Single) / Buback

…

35.
Yukno / Haut (feat.Lina Maly)
Haut (Single) / Humming Records

…

36.
Sudan Archives / Home Maker
Home Maker (Single) / Stones Throw Records

…

37.
Aretha Franklin / Here We Go Again
A Rose Is Still A Rose / Arista

…

38.
Xul Zolar / Tell Me
Tell Me / Asmara Records

…

39.
Camper Van Beethoven / Take The Skinheads Bowling
Telephone Free Landslide Victory / Independent Project Records

…

40.
Why? / The Vowels Pt. 2
Alopecia / Anticon

…

41.
Keleketla / International Love Affair
International Love Affair (Single) / Ahead Of Our Time

…