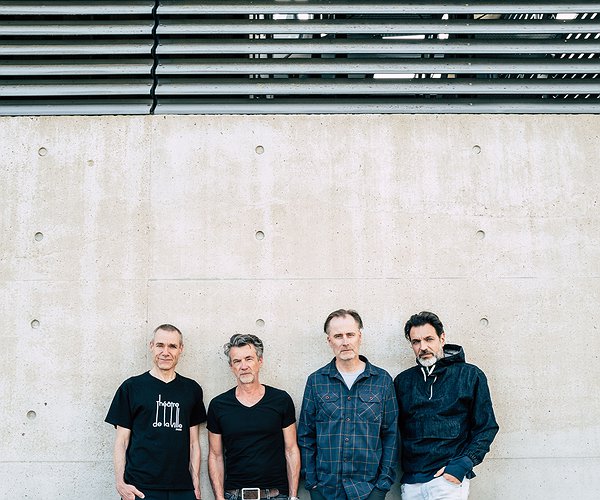 The Jeremy Days aus Hamburg: Gegründet im Jahr 1987, das Debütalbum 150.000 Mal verkauft, immer mal wieder an den Top 10 der Single- oder Albumcharts gekratzt (als das noch was bedeutete). Dann, im Jahr 1996, löste sich die Band auf. Die beteiligten Musiker machten solo sehr erfolgreich weiter, entweder als Singer-Songwriter und Label-Gründer von Tapete Records (Dirk Darmstaedter), als Musikproduzent beim Film und im Fernsehen (Christoph M. Kaiser) oder als Songautor und Produzent von u. a. Bernd Begemann (Louis C. Oberlander).
Seit 2019 sind The Jeremy Days abzüglich Christoph M. Kaiser wieder zusammen unterwegs. Wegen der Corona-Pandemie hat die Band nur wenige Konzerte spielen können. Jetzt, ein Jahr nach der Veröffentlichung des erfolgreichen Comeback-Albums "Beauty In Broken", steht endlich eine komplette Tour durch Deutschland an.
Die Termine:
28.09.23 Hannover – Lux
29.09.23 Hamburg – Mojo Club
30.09.23 Berlin – Privatclub
02.10.23 Leipzig – Naumanns
03.10.23 Köln – Helios37
04.10.23 Essen – Zeche Carl
06.10.23 Bremen – Tower
07.10.23 Münster – Gleis 22
09.10.23 Frankfurt am Main – Das Bett
10.10.23 Nürnberg – Club Stereo
Heute sind The Jeremy Days im ByteFM Magazin bei Friederike Herr zu Gast.
(Foto: Stephan Dürdoth)
Weitere Ausgaben von ByteFM Magazin
Playlist
1.
The Parade / I'm A Dreamer
I'm A Dreamer (Single) / Dumont Dumont

…

2.
Brandt Brauer Frick / In Your Head Now (feat. Azekel)
In Your Head Now (Single) / Because Music

…

3.
Florry / Cowgirl Giving
Cowgirl Giving / Gardenhead Records

…

4.
Cherise / Summer Love
Calling / Kartel Music Group

…

5.
Men I Trust / Billie Toppy
Billie Toppy (Single) / Men I Trust

…

6.
Apollo Ghosts / Gave Up The Dream
Gave Up The Dream (Single) / Apollo Ghosts

…

7.
The Mountain Goats / Clean Slate
Clean Slate / Matador

…

8.
Arlo Parks / Blades
Blades (Single) / Transgressive/Pias

…

9.
Beach Fossils / Dare Me
Bunny / Bayonet Records

…

10.
Stimulator Jones / Soon Never Comes
Sofie's SOS Tape / Stones Throw

…

11.
Jessy Lanza / Limbo
Limbo (Single) / Hyperdub

…

12.
Dat Politics / Ghost Town
Powermoon EP / Tigerbeat6

…

13.
Bibi Club / La Nuit
La Nuit (Single) / Secret City

…

14.
Megaloh, Oga Beats / Klar
Klar

…

15.
Obongjayar / Tinko Tinko (Don't Play Me For A Fool)
Tinko Tinko (Don't Play Me For A Fool) (Single) / September Recordings

…

16.
Sinethemba Mahlangu / Ebbing Of The Fancy
Unorthodox Flows / Third Ear Recordings

…

17.
M. Ward / Engine 5 (feat. First Aid Kit)
Supernatural Thing / Anti-

…

18.
Speckman & Sofie Royer / Cheerleader
Cheerleader (Single) / Shutters x Kommerz Records

…

19.
Cypress Hill / I Wanna Get High
Black Sunday / Ruffhouse Records

…

20.
Yunè Pinku / Sports
Sports (Single) / Yunè Pinku

…

21.
Róisín Murphy / If We're In Love
Ruby Blue / Echo

…

23.
Eut / Stoned
Stoned / The Orchard Music

…

24.
Nia Archives / So Tell Me...
So Tell Me... (Single) / Nia Archives / Universal

…

25.
Little Dragon / Tumbling Dice
Slugs Of Love / Ninja Tune

…

26.
Buddy Knox / Rock Your Little Baby To Sleep
Rock Your Little Baby To Sleep / Roulette

…

27.
Parquet Courts / Sympathy For Life
Sympathy For Life / Rough Trade

…

28.
Locate S,1 / Personalia
Personalia / Captured Tracks

…

29.
Mega Bog / Cactus People
End Of Everything / Mexican Summer

…

30.
Sam Burton / Maria
Dear Departed / Partisan

…

31.
A Tribe Called Quest / Can I Kick It?
People's Instinctive Travels And Paths Of Rhythm / Jive / Zomba

…

32.
The Jeremy Days / Rome Wasn't Built In A Day (Single Mix)
It Is The Time - The Essential Collection / Vertigo Berlin

…

33.
The Jeremy Days / Breathe
Beauty In Broken / WMG

…

34.
The Jeremy Days / Beauty In Broken - Live @ ByteFM
Beauty In Broken / WMG

…

35.
The Jeremy Days / Lassos Of Love
Beauty In Broken / WMG

…

36.
Vieux Farka Touré & Khruangbin / Tongo Barra
Tongo Barra (Single) / Dead Oceans

…

37.
The Weather Station / Parking Lot
Ignorance / Fat Possum

…

38.
Who Is She? / 96 Ghouls
96 Ghouls / Father/Daughter Records

…

39.
Automatic / Venus Hour
Excess / Stones Throw

…

41.
Art Feynman / All I Can Do
All I Can Do (Single) / Western Vinyl

…

42.
Islands / Superstitious
Superstitious / ELF

…

43.
Sosa, Taucher / Wave - D.J. Taucher Remix
Wave / ZYX Music

…