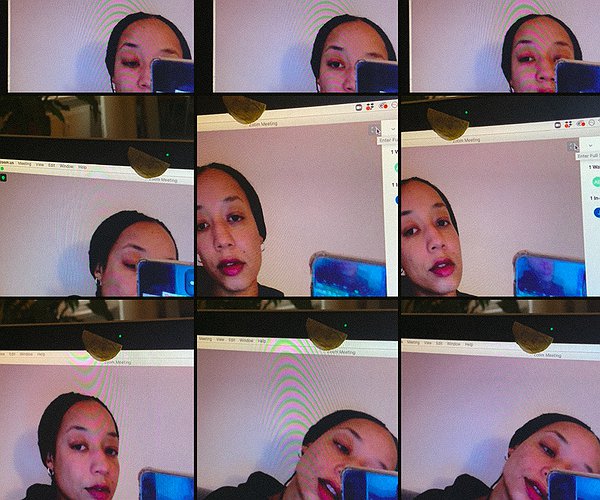 Will the feelings leave? I don't know for sure.
But I plan to feel all the feels and then to elevate.

Joanna Catherine Schröder aka Joanna Legid's work is very personal and soft. As a visual artist, she uses analogue photography to create intimate and authentic images, each one special in its own way. Her work is a tool for healing and connection, for herself as well as for everyone she works with.
Apart from photography, Joanna writes (mostly notes that nobody reads), creates playlists (for each of her moods) and is the co-founder of heartxwork, an online platform & magazine for creative BIPOCs living in Germany.
Weitere Ausgaben von Female:Pressure
Playlist
| | | |
| --- | --- | --- |
| 1. | Charlotte Adigéry / Sénégal Séduction | … |
| 2. | Dean Blunt / Dash Snow | … |
| 3. | Khruangbin Ft. León Bridges / Mariella | … |
| 4. | Mariem Hassan / Arrabi Al Arabe | … |
| 5. | Fishmans / Night Cruising | … |
| 6. | Kelsey Lu / Down 2 Ride | … |
| 7. | Zoudé / Interlude | … |
| 8. | Les Filles De Illighadad / Inigradan | … |
| 9. | Oumou Sangaré / Mogo Te Diya Bee Ye | … |
| 10. | Fontella Bass / I'm Leaving The Choice To You | … |
| 11. | Sonya Spence / I Love You So | … |
| 12. | Fanny / Ancrée À Ton Port | … |
| 13. | Nalan / Only Birds Can Tell | … |
| 14. | Bonnie Banane / Deuil | … |
| 15. | Tierra Whack / Flea Market | … |
| 16. | Stromae / Mon Amour (Alcapella) | … |
| 17. | Madonna / The Power Of Goodbye | … |
| 18. | Princess Nokia / Flava | … |
| 19. | Elijah Hook / Mother Mother | … |
| 20. | Caroline Shaw & Attacca Quartet / Plan & Elevation: V. The Beech Tree | … |
| 21. | Sophie Birch / Loph | … |
| 22. | Emily A. Sprague / Water Memory 1 | … |
| 23. | Stella Chiweshe / Tapera | … |
| 24. | Laraaji / Hare Jaya Jaya Rama II | … |
| 25. | Cktrl / Will The Feelings Leave | … |
| 26. | Mansionair / Sierra | … |
| 27. | Toro Y Moi / New House | … |
| 28. | Sango Ft. Mc Taty / Da Rocinha 2 Especial | … |
| 29. | Omah Lay / I | … |
| 30. | Melo-X: Lana Del Rey / Video Games Remix | … |
| 31. | Nala Sinephro / Space 8 | … |
| 32. | Yves Tumor / The Feeling When You Walk Away | … |
| 33. | Sault / Rise | … |