Forward The Bass
Gentleman's Dub Club, Kingston All Stars u.a.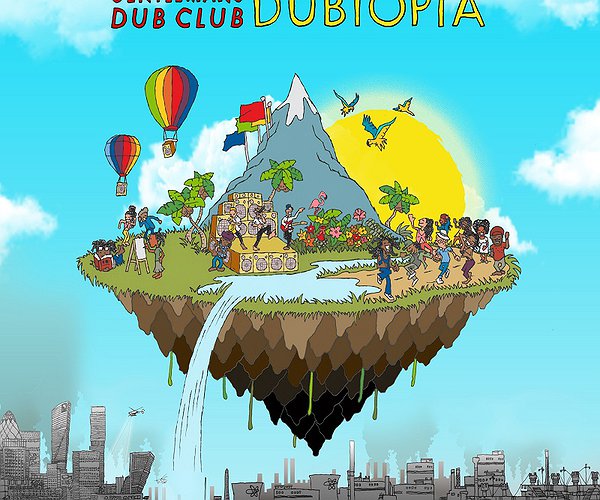 Die neunköpfige Band Gentleman's Dub Club aus England legt mit "Dubtopia" ihren neuen Longplayer vor. Darauf präsentieren sie sich wieder einmal sehr druckvoll, vielseitig und lebhaft. Die Band ist musikalisch äußerst versiert und kann stilistisch eine große Bandbreite präsentieren, ohne die allseits bekannten Reggaeklischees (Jah, Babylon etc.) zu bedienen.
Zudem gibt es Tunes von Illbilly Hitec, Inna De Yard, Meta & The Cornerstones, Dr. Dubenstein und
Coldcut
zu hören.
Weitere Ausgaben von Forward The Bass
Playlist
1.
Inna De Yard / Slaving Feat. Lloyd Parks
The Soul Of Jamaica / Chapter Two

…

2.
Inna De Yard / Black To I Roots Feat. Winston Mcanuff
The Soul Of Jamaica / Chapter Two

…

3.
Kingston All Stars / Man On Board Feat. Prince Alla
Presents: The Kingston All Stars / Roots & Wire

…

4.
Kingston All Stars / Jah Made It All Feat. Prince Alla
Presents: The Kingston All Stars / Roots & Wire

…

5.
Meta & The Cornerstones / Addis State Of Mind
Hira / Baco Records

…

6.
Meta & The Cornerstones / The Fig And The Olive Tree
Hira / Baco Records

…

7.
Gentleman's Dub Club / Let A Little Love
Dubtopia / Easy Star Records

…

8.
Gentleman's Dub Club / Fire In The Whole Feat. Parly B & Eva Lazarus
Dubtopia / Easy Star Records

…

9.
Gentleman's Dub Club / Gridlock
Dubtopia / Easy Star Records

…

10.
Illbilly Hitec / Rude Boy Talk Feat. Kinetical
One Thing Leads To Another / Echo Beach

…

11.
Illbilly Hitec / Real Feat. Kinetical & Gardna
One Thing Leads To Another / Echo Beach

…

12.
Dr. Dubenstein / Black Dragon Society Dub Feat. Nesta Lion
Conspiracy Theory / Echo Beach

…

13.
Coldcut / Divide & Rule Feat. Lee "Scratch" Perry
Divide & Rule / Ahead Of Our Time

…

14.
Coldcut / Vitals Feat. Roots Manuva
Vitals / Ahead Of Our Time

…

16.
Coldcut / Vitals Feat. Roots Manuva (Dennis Bovell Remix)
Vitals / Ahead Of Our Time

…