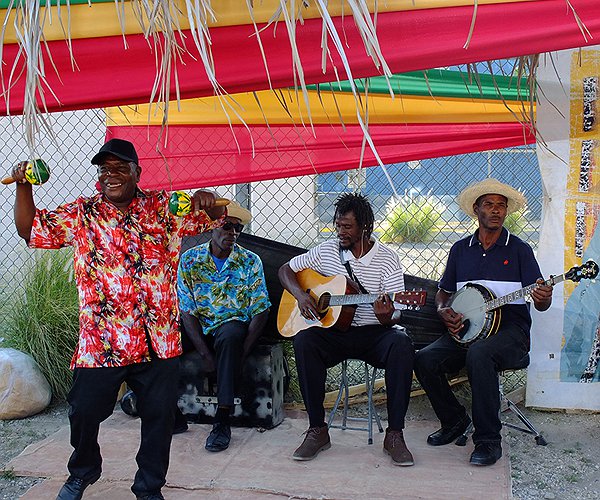 Nachdem wir mit den Länderspecials schon einmal um den Globus gereist sind, ist es nun an der Zeit, mal inne zu halten und die Wurzeln des Weltkulturerbes Reggae zu beleuchten. Die heutige Sendung zeigt die spannende Entwicklung der jamaikanischen Musik von humorvollem Mento über schnellen Ska bis hin zu Rocksteady auf.
Dabei begegnen uns rauschend-kratzige Originalaufnahmen aus den 50ern (von Hubert Porter, Count Lasher und The Folkes Brothers), eine Live-Show der Jolly Boys in Schweden, die ersten Gehversuche des Ska mit Justin
Hinds
& The Dominoes, Don Drummond & The Skatalites, Clancy Eccles, The Maytals,
Desmond Dekker
und Alton Ellis sowie die ruhigeren, ernsten Töne des Rocksteady (Hopeton Lewis, Derrick Morgan, Ken Boothe und Leroy Sibbles). Und ein ganz, ganz junger
Bob Marley
!
Weitere Ausgaben von Forward The Bass
Playlist
1.
Hubert Porter / Not Me
Jamaican Mento 1951 – 1958 / Fremeaux Heritage

…

2.
Count Lasher, Charlie Binger & The Calypsonians / Talking Parrot
Mento & R&B / Trojan Records

…

3.
The Jolly Boys / Mattie Belly
Live In Sweden 1190 / Funzalo Records

…

4.
The Folkes Brothers / Oh Carolina
Single / Oldtown

…

5.
Justin Hinds & The Dominoes / Carry Go Bring Come
This Is Trojan Ska / Trojan Records

…

6.
Don Drummond & The Skatalites / Eastern Standard Time
This Is Trojan Ska / Trojan Records

…

7.
Clancy Eccles / Sammy No Dead
This Is Trojan Ska / Trojan Records

…

8.
The Maytals / He Will Provide
Studio One Jump Up / Soul Jazz

…

9.
Bob Marley & The Wailers / Go Jimmy Go
Studio One Jump Up / Soul Jazz

…

10.
Peter Tosh & The Wailers / Shame & Scandal
The Toughest / Heartbeat

…

11.
Desmond Dekker & The Aces / 007 (Shanty Town)
This Is Trojan Ska / Trojan Records

…

12.
Alton Ellis / You Are The One To Blame
Ska Rarities / Trojan Records

…

13.
Hopeton Lewis / Take It Easy
Rocksteady – The Roots Of Reggae / Moll-Selekta

…

14.
Derrick Morgan / Tougher Than Tough
Rocksteady – The Roots Of Reggae / Moll-Selekta

…

15.
Ken Boothe / Let The Water Run Dry
Inna De Yard – The Soul Of Jamaica / Wagram Music / Chapter Two Records

…

16.
Leroy Sibbles / People Rocksteady
Rocksteady – The Roots Of Reggae / Moll-Selekta

…