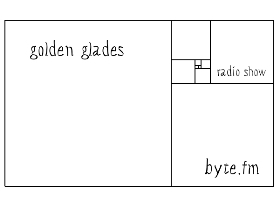 Ausgabe vom 19.06.2019: Slightly Psychedelic
Hören
Das Golden-Glades-Tagesgeschäft präsentiert sich heute slightly psychedelic, u.a. mit neuer Musik von Doug Tuttle. Der in Boston ansässige Songschreiber sorgt auf seinem bislang stärksten Solowerk "Dream Road" für einen geschmeidigen Sixties-Sound, bei dem jede Harmoniewendung und jeder Klang mit Bedacht gewählt sind. Der Mann weiß genau, wie er seine Gefühle kommunikativ verpackt, wobei Tuttle nicht nur als Songwriter und Multiinstrumentalist überzeugt – er baut auch Effektgeräte für Gitarren.

Als Soundarchitekten der besonderen Art verstehen sich Vanishing Twin. Der kosmopolitische Haufen aus London sorgt für ein audiovisuelles Gesamtpaket im retro-futuristischen Gewand und gibt mit seinem neuen Album "The Age Of Immunology" ein Statement ab, für weniger Grenzen und mehr Toleranz. Auch musikalisch gestatten Vanishing Twin keinerlei Schranken: Avant-Pop trifft auf hörspielartige Klangcollagen, experimentierfreudiger Krautrock auf italienische Soundtracks – und eine gute Prise Psychedelia darf auch hier nicht fehlen!

Ebenfalls vielversprechend und slightly psychedelic: brandneue Tracks von (Sandy) Alex G, Oscilla und Order of the Toad.
Weitere Ausgaben von Golden Glades
Playlist
1.
Clinic / Complex
Wheeltappers and Shunters / Domino
2.
Lucille Furs / Sooner Than Later
Another Land / Requiem Pour Un Twister
3.
Nazz / Forget All About It
Nazz Nazz / SGC
4.
The Babe Rainbow / Something New
Something New - Single / 30th Century Records
5.
Vanishing Twin / Magician's Success
The Age Of Immunology / Fire Records
6.
Oscilla / Everlasting
Everlasting / oscillamusic.bandcamp.com
7.
(Sandy) Alex G / Gretel
Gretel - Single / Domino
8.
Tomorrow / My White Bicycle
Tomorrow / Parlaphone
9.
Oro Swimming Hour / Lyyyyy
Lyyyyy - Single / Deertone Records
10.
Ada Lea / The Party
The Party - Single / Saddle Creek
11.
Teal Moss / Lewis
Dewy / tealmoss.bandcamp.com
12.
Doug Tuttle / Twilight
Dream Road / Burger Records
13.
Crosby, Stills and Nash / Guinnevere
Crosby, Stills and Nash / Atlantic
14.
James Clark Five / The Redemption Of Casper Green
Parlour Sounds / Beautiful Music
15.
Benjamin Lazar Davis / Choosing Sides
Nothing Matters / BLD Records
16.
Montage / Song Is Love
Montage / Sundaze
Stunde 2:
1.
Mike Gale / Every Cloud Has A Cloudy Lining
Summer Deluxe / mikegale.bandcamp.com
2.
Froth / Dialogue
Duress / Wichita
3.
East Sister / Mildly
Mildly - Single / Red Brick Chapel
4.
Vanishing Twin / Choose Your Own Adventure
Choose Your Own Adventure / Soundway Records
5.
Vanishing Twin / Language Is A City (Let Me Out!)
The Age Of Immunology / Fire Records
6.
Order of the Toad / Just Because
Rabbets EP / Permanent Slump
7.
The Black Watch / Get Me Out Of Echo Park
Magic Johnson / ATOM Records
8.
Paul Den Heyer / Technicolor Summer Sunshine
Everything So Far / A Turntable Friend
9.
The Roosters / One of These Days
Jon Savage's 1966: The Year the Decade Exploded / Ace Records
10.
Blonder / Long Way to Go
Cowboy Diaries / Cool World Records
11.
Whitney / Giving Up
Giving Up - Single / Secretly Canadian
12.
Doug Tuttle / But Not for You
Dream Road / Burger Records
13.
Doug Tuttle / Fade
Dream Road / Burger Records
14.
The Divine Comedy / Philip And Steve's Furniture Removal Company
Office Politics / Divine Comedy Records
15.
Southern Pine / Way Back Home
Way Back Home - Single / southernpine.bandcamp.com