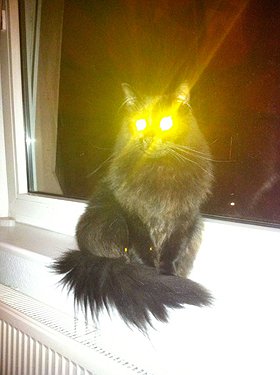 Ausgabe vom 20.05.2013: The cat, the beast…
Hören
The cat, the beast …

… so heißt die Titelmelodie von HELLO MELLOW FELLOW. Graham Mushnik heißt der Kopf dahinter und von dem gibt es bald ein neues Album. Nun überlege ich, ob ich mir eine neue Titelmelodie anschaffen sollte … Das habe ich schon einmal getan. Also überlegt, meine ich. Eine kleine Umfrage im Hörerkreis zeigte aber schnell, dass das gar nicht gewünscht war. Dabei bietet sich »Valse Au Santour« vom neuen Mushnik Album geradezu hervorragend an! Hören könnt ihr es in der heutigen Ausgabe – übrigens die 100. HELLO MELLOW FELLOW Sendung. Das bedeutet auch 100-mal »The Cat – The Beast« von Graham Mushnik – also an dieser Stelle auch mal ein großes Dankeschön an Herrn Mushnik für ein großes Stück Musik!

Nun denn, wie schaut's? Ab Sendung Nummer 101 eine neue Titelmelodie? Meinungen hierzu bitte per Mail an: hellomellowfellow@byte.fm - übrigens auch, wenn ihr immer am Morgen der Erstausstrahlung eine Ankündigungsmail bekommen möchtet.

Cin cin!

Weitere Ausgaben von Hello Mellow Fellow
Playlist
1.
Graham Mushnik / The Cat – The Beast
A Distant Wildlife / Catapulte Records
2.
Graham Mushnik / Valse Au Santour
On The Phone With Graham Mushnik / Catapulte Records
3.
Graham Mushnik / The Cat – The Beast
A Distant Wildlife / Catapulte Records
4.
Daughter / Get Lucky
5.
The Rascals / My World
Once Upon A Dream / Rhino
6.
Benton / We're Both Lost
Reflections / Wheel & Deal
7.
Dimitri From Paris / Par Un Chemin Different
Sacrebleu / Yellow Productions
8.
Fainting By Numbers / Watching The Wheels
Watching The Wheels / A Stone In The Ground / Moshi Moshi
9.
The King Of Luxembourg / The Rubens Room
Royal Bastard / Él / Cherry Red Records
10.
The Kinks / No Return
Something Else / PRT Records
11.
Kinky Friedman / Popeye The Sailorman
Kinky Friedman / ABC Records
12.
Shelley Duvall / He Needs Me
OST – Popeye / Epic Records
13.
Van Dyke Parks / Iron Horse
Super Chief: / Bella Union
14.
Chor Der Kulturen / Orange Crate Art
n/a / n/a
15.
Van Dyke Parks / Aquarium
Songs Cycled / Bella Union
16.
Graham Mushnik / Valse Au Santour
On The Phone With Graham Mushnik / Catapulte Records
Stunde 2 :
1.
Bibio / Raincoat
Silver Wilkinson / Warp / Rough Trade
2.
Big Star / Try Again (Movie Mix, 2012)
Nothing Can Hurt Me / Omnivore Recordings
3.
Alex Chilton / All We Ever Got From Them Was Pain (Movie Mix, 2012)
Nothing Can Hurt Me / Omnivore Recordings
4.
The Gabby Pahinui Band / Blue Hawaiian Moonlight
The Gabby Pahinui Band Vol. 1 / Warner
5.
Donald Byrd / Cristo Redentor
A New Perspective / Blue Note
6.
Dexter / Pictures (Feat. Josa Peit)
The Trip / MPM
7.
Jonny Trunk / The Horn
The Inside Outside / Trunk Records
8.
Kraftwerk / Heimatklänge
Ralf & Florian / Philips Records
9.
Jonathan Richman & The Modern Lovers / Springtime
Jonathan Richman & The Modern Lovers / Berserkley Records
10.
Van Dyke Parks / The All Golden
Songs Cycled / Bella Union / Cooperative Music
11.
David Byrne / (The Gift Of Sound) Where The Sun Never Goes Down
Music For The Knee Plays / EMI
12.
TG Mauss / I'm A Child
Dear Strange / Karaoke Kalk
13.
Ritornell / In Every Dream Home A Heartache
Aquarium Eyes / Karaoke Kalk
14.
Molnbär Av John / Kaikki Loppunu
Kaikki Loppunu / IIIW
15.
Graham Mushnik / Valse Au Santour
On The Phone With Graham Mushnik / Catapulte Records