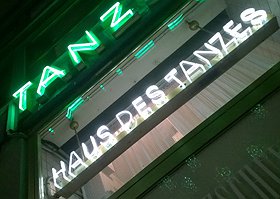 "
Can
we wait just a minute, slow it down for a minute now baby" – klingt gut, der Vorschlag von John Legend, oder? "Slow Dance" heißt der Song mit diesen Zeilen und ist einer meiner Favoriten um einen ebensolchen aufs Parkett zu legen.
Außerdem eignet er sich ideal als Untertitel für HELLO MELLOW FELLOW – denn um nichts anderes geht es hier in dieser Sendung: Mal eben zwei Stunden lang einen Gang zurückschalten. Wer dazu tanzen möchte, darf das natürlich auch gerne tun!
"I propose that we go to the floor and we slow dance" – in diesem Sinne:
Let's all enter the "Tanzhaus des Tanzes"!
Foto: © Hans Artmann
Weitere Ausgaben von Hello Mellow Fellow
Playlist
1.
Graham Mushnik / The Cat – The Beast
A Distant Wildlife / Catapulte Records

…

2.
Silk Rhodes / This Painted World
Silk Rhodes / Stones Throw

…

3.
Foxygen / You & I
… And Star Power / Jagjaguwar

…

4.
Justin Townes Earle / Call Ya Momma
Absent Fathers / Loose Music

…

5.
Townes Van Zandt / Greensboro Woman
High, Low And In Between / Tomato Records

…

6.
Tweedy / Pigeons
Sukierae / dBpm Records

…

7.
Alexis Taylor / Dolly And Porter
Await Barbarians / Domino Records

…

8.
Tower Of Power / You're Still A Young Man
Bump City / Warner Bros. Records

…

9.
John Legend / Slow Dance
Once Again / G.O.O.D. Music / Sony

…

10.
Hailu Mergia And The Walias / Yemiasleks Fikir
Tche Belew / Awesome Tapes From Africa

…

11.
Silk Rhodes / Pains
Silk Rhodes / Stones Throw

…

12.
Andrew Wyatt / Horse Latitudes
Descender / INGRID / Downtown Records

…

13.
Devendra Banhart / Losing My Taste For The Night Life
VA – Master Mix: Red Hot + Arthur Russell / Yep Roc Records

…

14.
Foxygen / Hang
… And Star Power / Jagjaguwar

…

15.
Silk Rhodes / Call (Interlude)
Silk Rhodes / Stones Throw

…

Stunde 2 :
1.
Terry Melcher & Doris Day / These Days
Terry Melcher / Reprise Records

…

2.
The Yearning / It's You That I Want
Dreamboats & Lemonade / Elefant Records

…

3.
The Haden Triplets / Slowly
VA – Mojo - 2014.08 - Presents: The Best Of Third Man Records / Mojo Magazine

…

4.
Souled American / Rise Above It
Around The Horn / Rough Trade

…

5.
Dennis Payne / The Conscience Of You
VA – Truckers, Kickers, Cowboy Angels – The Blissed-Out Birth Of Country Rock Vol. 1 – 1966-1968 / Bear Family Records

…

6.
Willie Hightower / Poor Man
Willie Hightower / Honest Jon's Records

…

7.
Silk Rhodes / Hold Me Down
Silk Rhodes / Stones Throw

…

8.
The Northern Lights / You & I
7" / Traveller Records

…

9.
Barbara Lewis / Spend A Little Time
7" / Atlantic Records

…

10.
Michael Aston / Disparity
FatCat Records Demo / FatCat Records

…

11.
Vashti Bunyan / Shell
Heartleap / FatCat Records

…

12.
Robert Wyatt / At Last I Am Free
7" / Rough Trade

…

13.
Daryll-Ann / Thirteen
7" / Hut Records

…

14.
Timber Timbre / Hot Dreams (Absolutely Free Remix)
Timber Timbre Remixes / n/a

…