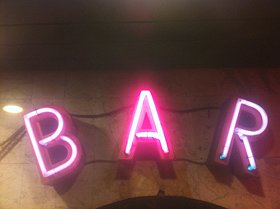 Ausgabe vom 26.01.2015: The Bar Is Called Heaven …
Hören
Everyone is trying to get to the bar.
The name of the bar, the bar is called Heaven.
The band in Heaven plays my favorite song.
They play it once again, they play it all night long.

HELLO MELLOW FELLOW – all night long? Nicht ganz. Auch im neuen Jahr bleibt es bei den zwei Stunden im Monat. Zwei Stunden mit ausgesuchten Songs – nicht nur immer wieder der gleiche Song:

Because only heaven is a place where nothing ever happens.
Weitere Ausgaben von Hello Mellow Fellow
Playlist
1.
Graham Mushnik / The Cat – The Beast
A Distant Wildlife / Catapulte Records
2.
Molto Stuhl / Blue Moon
Die Qual Der Belgier / Principe Logique
3.
Charlie Byrd / At Seventeen
Charlie Byrd / Crystal Clear Records
4.
Jessica Pratt / Strange Melody
On Your Own Love Again / Drag City
5.
Willie Dunn / I Pity The Country
VA – Native North America Vol. 1 – Aboriginal, Folk, Rock And Country 1966-1985 / Light In The Attic Records
6.
Billy Fury / Wondrous Place
VA - Mojo Presents: DavidHeroesBowie / n/a
7.
Pyrolator / Castles In The Sand
Pyrolator's Traumland / Ata Tak
8.
Tropics / Torrents Of Spring
Rapture / Innovative Leisure
9.
Mocky / I'm A Fool
Navy Brown Blues / Four Music
10.
Trzaskowski feat. Wanda Warska / Pociag
O.S.T. – Pociag / n/a
11.
Henryk Debich / Opadający Widnokrąg
String Beat / Bureau B
12.
Edwyn Collins / Quite Like Silver
O.S.T. - The Possibilities Are Endless / Analogue Enhanced Digital
13.
Everything But The Girl / Tender Blue
Eden / Blanco Y Negro
14.
Dimitra Galani / Min Kourastis Na M'agapas
Ta Tragoudia Tis Hthesinis Mera / Minos / EMI SA
Stunde 2 :
1.
Chris Isaak / Wicked Game (Instrumental)
Wicked Game / Reprise Records
2.
Caitlin Canty / Unknown Legend
Reckless Skyline / www.caitlincanty.com
3.
The Mynah Birds / Go On And Cry
7" / V.I.P. / Motown Records
4.
Sam Nesbit / Chase Those Clouds Away
VA - Masterpieces Of Modern Soul / Kent Records / Ace Records
5.
Intruders / Save The Children
VA – Let's Clean Up The Ghetto / Phildelphia International Records / CBS
6.
Shirley Collins / Higher Germanie
The Sweet Primroses
7.
James Yorkston And The Athletes / The Lang Toun
The Lang Toun / Domino Recording Co LTD
8.
Meat Puppets / Plateau
II / SST Records
9.
Freiwillige Selbstkontrolle / Yankee Goes Home
FSK In Dixieland / Zickzack
10.
Justin Townes Earle / Picture In A Drawer
Single Mothers / Vagrant Records
11.
Les McCann / What's Going On Part I
7" / Atlantic Records
12.
Nina Simone / Wild Is The Wind
VA - Mojo Presents: DavidHeroesBowie / n/a