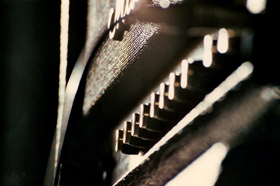 Ausgabe vom 19.09.2012:
Hören
In Through The Out Door stellt heute einige Songs von dem vor kurzem auf dem Label Light In The Attic Records erschienenen Sampler
"Country Funk 1969 – 1975"
vor. Der Release hält dabei als Anlass her, noch weitere von der Country-Musik beeinflusste Künstler vorzustellen, u.a. The Derek Trucks Band, String Cheese Incident, William Elliot Whitmore, The Bridge und Gary Clark Jr.
Weitere Ausgaben von In Through The Out Door
Playlist
1.
Link Wray / Fire And Brimstone
Country Funk 1969 - 1975 / Light In The Attic Records

…

2.
Robert Randolph & The Family Band / Going In The Right Direction
Unclassified / Warner Bros.

…

3.
Marion Williams / Wicked Messenger
Standing Here Wondering Which Way To Go / Atlantic

…

4.
Johnny Adams / Georgia Morning Dew
Country Funk 1969 - 1975 / Light In The Attic Records

…

5.
The Derek Trucks Band / Ballad Of The Chicken Robber
Already Free / Col/Sony Music

…

6.
The Derek Trucks Band / Crow Jane
Songlines / Sony Music

…

7.
The Allman Brothers Band / Midnight Rider
Beginnings / Atco Records

…

8.
Sea Level / Country Fool
Sea Level / Capricorn

…

9.
String Cheese Incident / Lonesome Fiddle Blues
A String Cheese Incident / Sci Fidelity Records

…

10.
Larry Jon Wilson / Ohooopee River Bottomland
Country Funk 1969 - 1975 / Light In The Attic Records

…

11.
William Elliot Whitmore / One Man's Shame
Latitudes EP / Southern Records

…

12.
The Bridge / Bury My Bones In Baltimore
Blind Man's Hill / Hyena Records

…

13.
Gary Clarke Jr. / Don't Owe You A Thang
The Bright Lights EP / Warner Bros.

…

14.
Dennis The Fox / Piledriver
Country Funk 1969 - 1975 / Light In The Attic Records

…