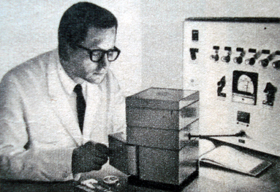 Ist es Zufall, dass in den Neuerscheinungen des noch nicht so alten Jahres immer wieder der Tod auftaucht?
"Kill Uncle" heißt die neue CD von Morrisey und
Iggy Pop
steht gleich mit einem Dynamitgürtel auf dem Cover seines Albums "Ready To Die".
Eine Band nennt sich Death Songs und Anfang April bekamen die treuen Abonnenten von Chumbawamba endlich die bereits 2009
aufgenommene EP zum Tode von Lady Thatcher ausgeliefert.
Das alles und noch viel mehr zum Thema Tod und Sterben in einer vergnüglichen Stunde in der Nacht zum 1. Mai.
Mit Morrisey, Iggy Pop, The Crackling, Melissmell, Sweet Baboo, Satoko Fujii und vielen anderen.
Weitere Ausgaben von Me Myself & Why
Playlist
1.
Sweet Baboo / If I Died
Ships / Rough Trade

…

2.
Death Songs / Overdose
Sung Indside A House / Cargo Records

…

3.
Melissmell / Rock N Roll Est Mort
Droit Dans La Gueule De Mort / Discograph

…

4.
The Fifth Estate / Ding Dong The Witch Is Dead!
Ding Dong The Witch Is Back! / Boston Skyline

…

5.
Chumbawamba / Introduction
In Memoriam Margaret Thatcher / Chumbawamba

…

6.
Chumbawamba / So Long, So Long
In Memoriam Margaret Thatcher / Chumbawamba

…

7.
Chumbawamba / Pinochet Bids Farewell From Beyond The Grave
In Memoriam Margaret Thatcher / Chumbawamba

…

8.
Chumbawamba / The Day The Lady Dies
In Memoriam Margaret Thatcher / Chumbawamba

…

9.
Chumbawamba / Ring The Bells
In Memoriam Margaret Thatcher / Chumbawamba

…

10.
Chumbawamba / Waiting For Margaret To Go
In Memoriam Margaret Thatcher / Chumbawamba

…

11.
Chumbawamba / Sleep
In Memoriam Margaret Thatcher / Chumbawamba

…

12.
Bobby Avey / Gravity And Stillness
Be Not So Song To Speak / Indys

…

13.
The Crackling / Suicide Is Painless
Maria Magdalene / File Under Music

…

14.
Andrew Wyatt / It Won't Let You Go
Descender / Universal

…

15.
Iggy And The Stooges / Ready To Die
Ready To Die / Rough Trade

…

16.
Morrissey / (I'm) The End Of The Family Line
Kill Uncle / EMI

…

17.
Death Songs / Wounds
Sung Indside A House / Cargo Records

…

18.
Tessa Rose Jackson / Where The Light Goes
Songs From The Sandbox / Monocle

…

19.
Iggy And The Stooges / The Departed
Ready To Die / Rough Trade

…